Foodwise's Farmers Market Winter Holiday Guide
November 17, 2022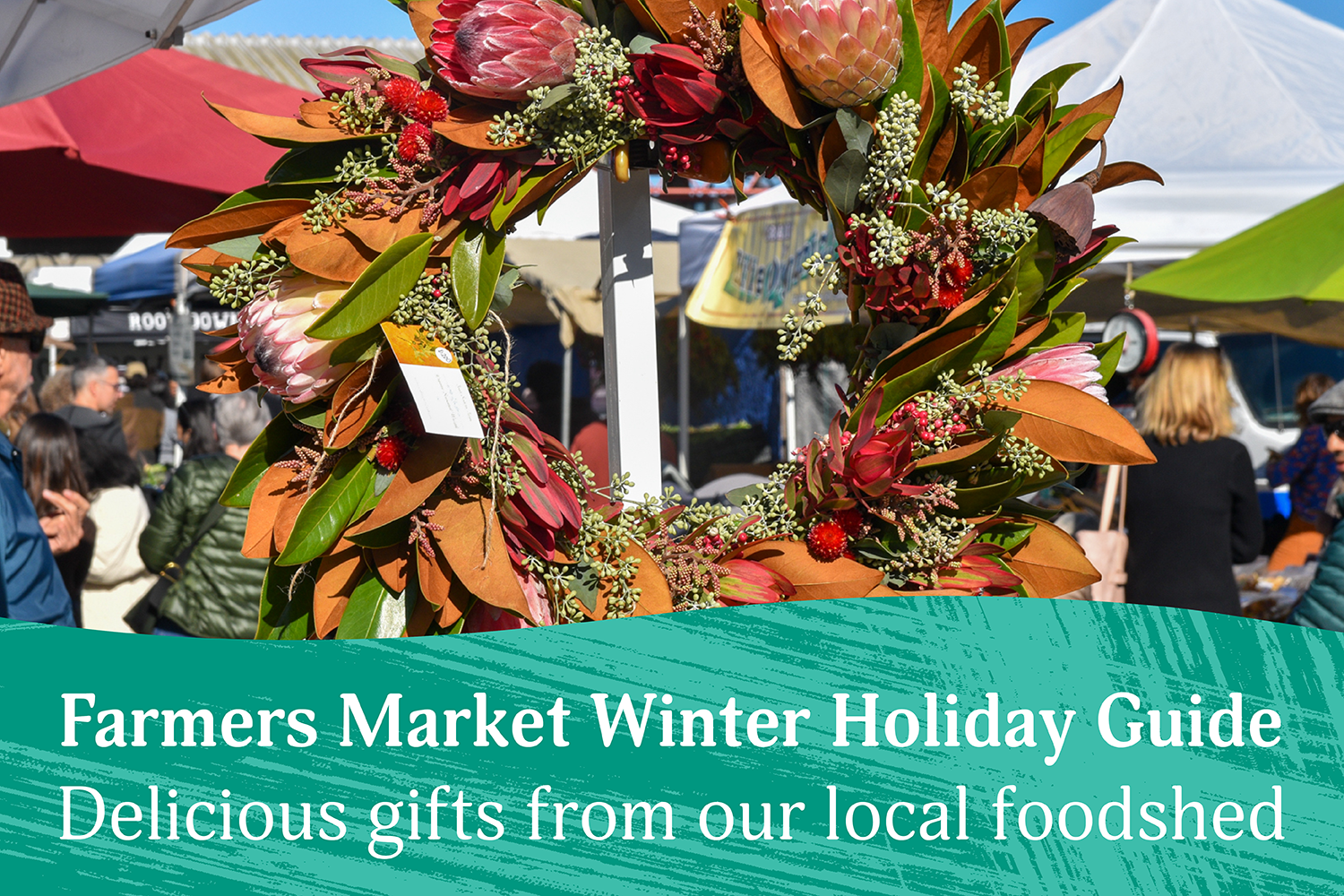 This holiday season, shop small and give the gift of good food while supporting local farmers and food crafters with our Farmers Market Winter Holiday Guide. At Foodwise farmers markets, you'll find the makings for wholesome winter feasts, along with unique gifts that nourish the body, the earth, and our local community.
We've gathered some ideas for delicious and distinctive stocking stuffers and host gifts, as well as fixings for creating a sustainably sourced goodie basket. These are gifts with real people and stories behind them. At the farmers market, you can meet the makers, learn about their crafts, and know that you're helping family farmers and small food businesses thrive.
As the days turn cold and rainy, farmers market vendors count on loyal customers like you to help sustain their businesses year-round. In this time of gratitude, we thank you for supporting Foodwise and our market community throughout the year. Happy holidays from Foodwise!
Ferry Plaza Farmers Market Winter Holiday Schedule
Note that the Ferry Plaza Farmers Market will be open on Saturdays December 24 and 31 from 8am to 1 pm. Note that the Ferry Plaza Farmers Market will be CLOSED on Thursday, December 29. We'll be back our regular schedule on Tuesday, January 3, 2022, rain or shine.
OPEN: Saturday, December 17, 8am-2pm
OPEN: Tuesday, December 20, 10am-2pm
OPEN: Thursday, December 22, 10am-2pm
OPEN: Saturday, December 24, 8am-1pm (special hours) | Christmas Eve Farmers Market
OPEN: Tuesday, December 27, 10am-2pm
CLOSED: Thursday, December 29
OPEN: Saturday, December 31, 8am-1pm (special hours) | New Year's Eve Farmers Market
Farmers Market Winter Holiday Gift Guide
From small-batch hot sauce and artisan chocolate to handmade wreaths and lavender body care products, find these made-with-love winter holiday gifts from our local farmers and crafters at the Ferry Plaza Farmers Market. Can't decide? Get them a farmers market tote bag or Farmers Market eGift Card.
Add holiday cheer and bring home the scent of eucalyptus, bay, lavender, and other California flora with gorgeous handcrafted holiday wreaths, grown and made by Cypress Flower Farm, Devoto Gardens, pictured above) Fifth Crow Farm, and Four Sisters Farm (pictured in the topmost image). Ferry Plaza, Saturdays.
Hoshigaki, also known as Japanese dried persimmons, are a special seasonal treat. If you don't know where to start the weeks-long project of air-drying persimmons, Blossom Bluff Orchards has you covered. Each hoshigaki kit includes organic Hachiya persimmons from the Loewen family's farm in Parlier, a drying "rack" and a detailed instructions sheet. Ferry Plaza, Saturdays.
For a vegan alternative to eggnog, check out Beber Almondmilk's almond and cashew-based version, ideal for holiday entertaining, cookie dipping, and warming up by that open fire. For dairy drinkers, Alexandre Family Farm has super‐creamy organic eggnog made from old‐fashioned A2/A2 milk from crossbred grazing cows on their regenerative dairy ranch in Crescent City. Ferry Plaza, Saturdays.
Each season, Proyecto Diaz Coffee introduces a new seasonal offering in artful packaging (painted by the owner, Fernando Diaz). This December, the fall "Cosecha" blend is wrapping up and the winter "Felicidad" is incoming with notes of mulled wine, hazelnut, and baked peach. They also have herbal Cascara tea, instant coffee, and tasteful tote bags and attire for coffee lovers. Tuesdays, Thursday, and Saturdays, Ferry Plaza.
A much-anticipated holiday favorite, Tory Farms has pomegranate jelly and juice, both delicious gifts or accompaniments to your holiday feast. Tory and Rebecca Torosian grow pomegranates, grapes, citrus, and other tree fruit on their "Magic Ranch" in Dinuba. Ferry Plaza, Saturdays.
Ditch the canned cranberry log and try honey fermented cranberry sauce from Wise Goat Organics, a Santa Cruz‐based maker of handcrafted ferments, to add flair to glazes and syrups to accompany your holiday feast. Fermenter Mary Risavi's nutrient‐dense version includes organic cranberries, ginger, wildflower honey, orange peel, and cinnamon. Ferry Plaza, Saturdays; online shop.
To delight the beer lover in your life, Almanac Beer Co. is selling cans of their crisp and citrusy limited-release Bunny Hill IPA (dry-hopped with Cashmere and Simcoe hops), along with rotating oak-aged sour beers brewed with real fruit in Alameda. Plus, keep an eye out for limited holiday beer advent boxes! Ferry Plaza, Saturdays; online shop.
This December, find Sajen Inc. at the La Cocina tent in the back plaza with Indonesian-inspired beverages, broths, and sauces. Their offerings include Jamu (antioxidant-packed elixirs) and Sambal (Good Food Awards-winning broths and sauces) to boost your immune system and keep you warm through the winter! Ferry Plaza, Saturdays in December; online shop.
Support next-generation organic farmers and share a taste of summer by gifting canned goods from Oya Organics in Hollister. Farmers Marsha Habib and Modesto Sanchez Cruz have a fresh new line of salsas, including Tomatillo Milpero, Organic Early Girl Tomato, and Amana Orange Tomato. Ferry Plaza, Saturdays; online shop.
Tierra Vegetables has plenty of distinctive gifts to bring flavor and spice, including their limited-supply Holiday Mole Negro with cranberry and dark chocolate, farmstead hot sauces, and heirloom popcorn and cornmeal, all sustainably grown and handmade in small-batches at Lee and Wayne James' farm in Santa Rosa. Ferry Plaza, Saturdays.
Share Dirty Girl Produce's famous flavor-packed tomatoes all winter long. Dirty Girl is preserving their dry-farmed organic Early Girls to make blended tomatoes, clamato, and spicy tomato juice. They also have strawberry preserves and cute tote bags and other merch, showing off their distinctive logo. Ferry Plaza, Saturdays; online shop.
If you're looking to gift the pleasantly unexpected, swing by Lonely Mountain Farm. First-generation farmers Kenny and Molly Baker take pride in their organic farming practices, and you can taste the flavorful impact of their efforts in jars of classic dill pickles and dilly pickled green beans. Top it off with a trucker-style hat embroidered with the family farm's logo. Ferry Plaza, Saturdays.
For a satisfying snack straight from the farm, you can't go wrong with Little Organic Farm's colorful dry-farmed potato chips. Also check out their canned dry-farmed Early Girl tomatoes and pepper jam, which feature farmer David Little's paintings on the label. Ferry Plaza, Saturdays.
For the perfect gift of any carb-lover's dreams, Mill Valley Pasta Co. is at the Ferry Plaza Farmers Market with small-batch artisan pastas made with organic ingredients. Bring something special to the table with Chef Tony's Squid Ink Calamarata or Duck Egg Noodles, or share the love by gifting a specialty pasta kit. Ferry Plaza, Saturdays; online shop.
Cap'n Mike's Holy Smoke, in addition to bringing their huge variety of stellar smoked fish (smoked salmon, salmon jerky, salmon sticks, and more) to the farmers market, offers extensive mail order gift boxes and gift shipping options. Ferry Plaza, Saturdays; online shop, or call 707-585-2000, or email sally@holysmokedsalmon.com.
Aedan Fermented's Shio Koji marinade is a simple alternative to brining your holiday turkey. It imparts a rich flavor with less sodium, and abundant enzymes encourage umami and help create a tender delicious bird. Try Aedan's signature handcrafted misos and amasake, too. Ferry Plaza, Saturdays; online shop.
A flavorful, quality olive oil goes a long way in culinary adventures, or simple bread-dipping appetizers. Sciabica's California Olive Oil gift packs feature four flavors of 100% extra virgin and unrefined olive oil, all cold-pressed on the family farm in Modesto. Bariani Olive Oil also offers raw, authentic extra virgin olive oil, in sample size bottles that are perfect for gifting. Ferry Plaza, Saturdays; online shop.
Give the sweetness of summer with Frog Hollow Farm conserves, featuring the farm's popular Brentwood-grown organic apricots, nectarines, and peaches. Gift baskets available. Ferry Plaza, Saturdays; online shop.
Great for Hanukkah gifting, Marshall's Farm and City Bees have honeys that offer a little locally sourced sweetness in a different varietals. Holiday gift baskets are also available, and their honey straws make a fun stocking stuffer. Hanukkah and Christmas gift boxes are available from Marshall's Farm in mixed case varieties (3- or 8-ounce jars). Ferry Plaza, Saturdays; online shop.
Winters Fruit Tree makes the holidays easy with gift trays and gift bags of their flavored almonds and pistachios, along with farmstead fruit jams and nut butters, straight up or in intriguing flavors like Cupcake Batter, Sweet Sriracha, or Jalapeno Popper. For more almond butter options, check out Massa Organics in the back plaza. Ferry Plaza, Saturdays and Thursdays; online shop.
Regenerative-certified, fifth-generation San Joaquin family farm Old Dog Ranch offers bags of raw walnuts, as well as flavors like Mexican Hot Chocolate, Whiskey Spice, and Rosemary, perfect for snacking. Grab-and-go gift bags with a sampler of their walnut butters and spiced walnuts are also available. Ferry Plaza, Saturday, December 17; online shop.
Fall is the time for harvesting walnuts, which means they're as fresh as can be at the farmers market right now. Glashoff Farms offers their freshly harvested Franquette walnuts and walnut butters, along with ther fruit preserves, curd, and more. Ferry Plaza, Saturdays.
East Bay-based chocolate maker Bisou Chocolate coaxes intriguing flavors from high-quality cocoa beans to make flavorful bars, truffles, and more, while paying a high premium to cocoa farmers. Seek out their seasonal bonbons, chocolate bark, and drinking chocolate for your chocoholic loved ones. Ferry Plaza, Saturdays; online shop.
Batter Bakery's baker Jen musty is driven by a love of sharing old-fashioned American treats, including cookies, brownies, and cakes, with a modern twist and an emphasis on premium ingredients and seasonal produce. This season, try Jen's holiday sugar cookies, or grab a box of shortbreads for the sweetest stocking stuffers. Ferry Plaza, Saturdays; online shop.
B-Y-O-Babka for Hannukah with Wise Sons Jewish Delicatessen's cinnamon and chocolate babka loaves, made in SF. Their challah, bagel chips, and spice mixes (in brisket, shawarma, and everything blends) are go-tos for last-minute gifting. Ferry Plaza, Saturdays; online ordering.
Season, taste, and freshen with Allstar Organics' dried herbs, salts, sugars, and hydrosols, which beautifully preserve the flavors and scents from Janet Brown and Marty Jacobson's organic farm in Marin. Ferry Plaza, Saturdays; online shop.
A regular vendor at our Mission Community Market, Kim Leonard's En Vie Naturals provides affordable vegan skin care products such as sprays, lotions, and creams that create peaceful moments, all locally made in San Francisco's Mission District. This holiday season, Kim is offering aromatherapy gift sets (set of three one-ounce sprays). Popping up Saturday, December 24; online shop.
Famous for their lavender, Eatwell Farm has a suite of sachets, scrubs, salves, hydrosols, essential oils, and other aromatic products, as well as seasoning salts made from products grown on their organic farm in Dixon. Ferry Plaza, Saturdays; online shop.
Farmers Market Merch
Package all of your farmers market winter holiday goodies in one of three limited edition tote bags. Each make a make a bold and functional fashion statement, and they're locally printed and made in the USA with cotton canvas. Available for purchase at the Foodwise Info Booth at all of our farmers markets.
Can't decide? Give them a Farmers Market eGift Card!
Delight your friends and family by letting them choose their own delicious gift with a Foodwise Farmers Market eGift Card. Our gift certificates have no expiration date, are available in any amount, and are redeemable for market coins that can be used at any stand in the farmers market. They also make great corporate gifts! Learn more and purchase.
Topics: Farmers market, Holiday, Local, Seasonal