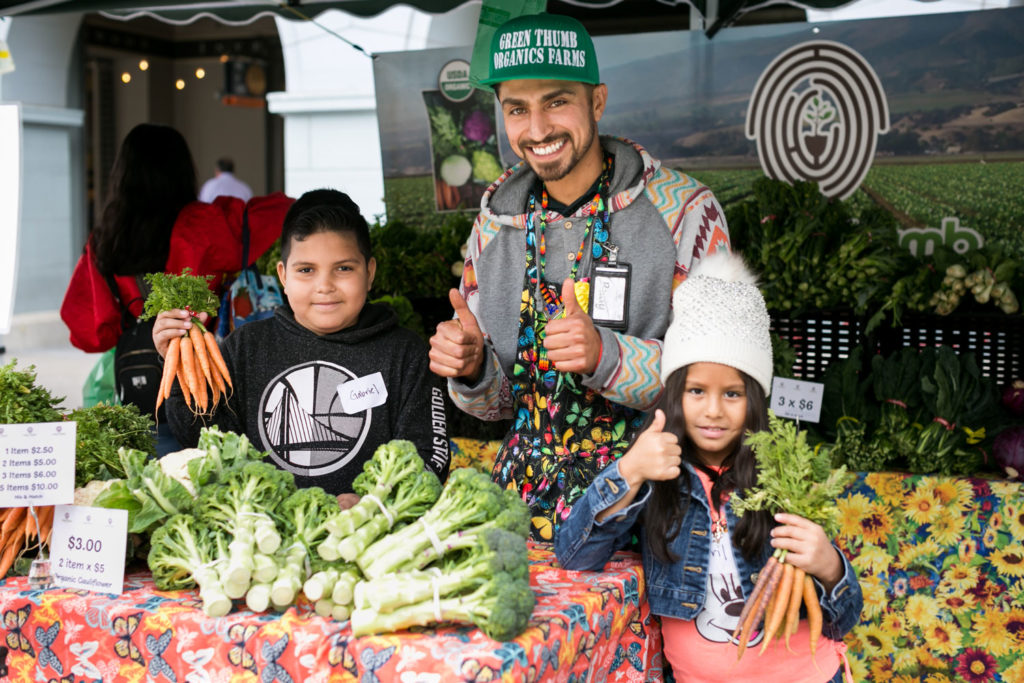 Founded in 1994, Foodwise (formerly CUESA) has operated world-class farmers markets and education programs to connect the Bay Area community with fresh, local food and sustainable family farms. In 2022, we changed our name to Foodwise to reflect our deepened commitment to equity, food access, and education. Learn more about our history.
Our Mission and Vision
Foodwise's mission is to grow thriving communities through the power and joy of local food.
We envision a world that nourishes all people, local economies, and the living earth.
Our Work
Our work is rooted in the belief that farmers markets are educational spaces where family farmers, food makers, and neighbors can share food and knowledge, build community, and nurture food and climate solutions together.
Farmers markets.
Our farmers markets are vital food access points, where small farmers and food businesses can thrive and thousands of Bay Area residents can learn, share, and build community through fresh local food. Foodwise has operated San Francisco's Ferry Plaza Farmers Market since 1999 and Mission Community Market since 2018. Learn more about our markets.
Education.
Wherever you are in your food journey, we offer programs to inspire eaters of all ages to take part in creating a fair, regenerative, and delicious food future for all. Our education offerings include free public cooking demos, youth programs, and more. Learn more about our programs.
Community food access.
We believe a sustainable, equitable, and resilient food system is rooted in connected communities. Foodwise cultivates welcoming public spaces where neighbors can build community around fresh food, and provides food access programs to make farmers markets inclusive and affordable for all. Learn more about food access.
Our Goals
Through farmers markets, education, and community programs, we're committed to:
Our Community Commitment
Foodwise is committed to conducting its business, programs, and market activities according to the following core values: community, equity, stewardship, and joy. Foodwise pledges to:
Operate world-class farmers markets that provide high-quality, nutritious, and safe products from local farmers, food artisans, and restaurants.
Foster transparency in our markets by requiring truth in labeling and by offering opportunities for shoppers to learn about the foods sold at the market.
Provide exceptional services and education programs to our market patrons.
Incubate small food businesses and support farmers and food entrepreneurs in making their operations more sustainable.
Expand public access to fresh fruits and vegetables and teach skills for growing and preparing them at home.
Work toward a healthy, just, and sustainable food system through education, advocacy, and action.