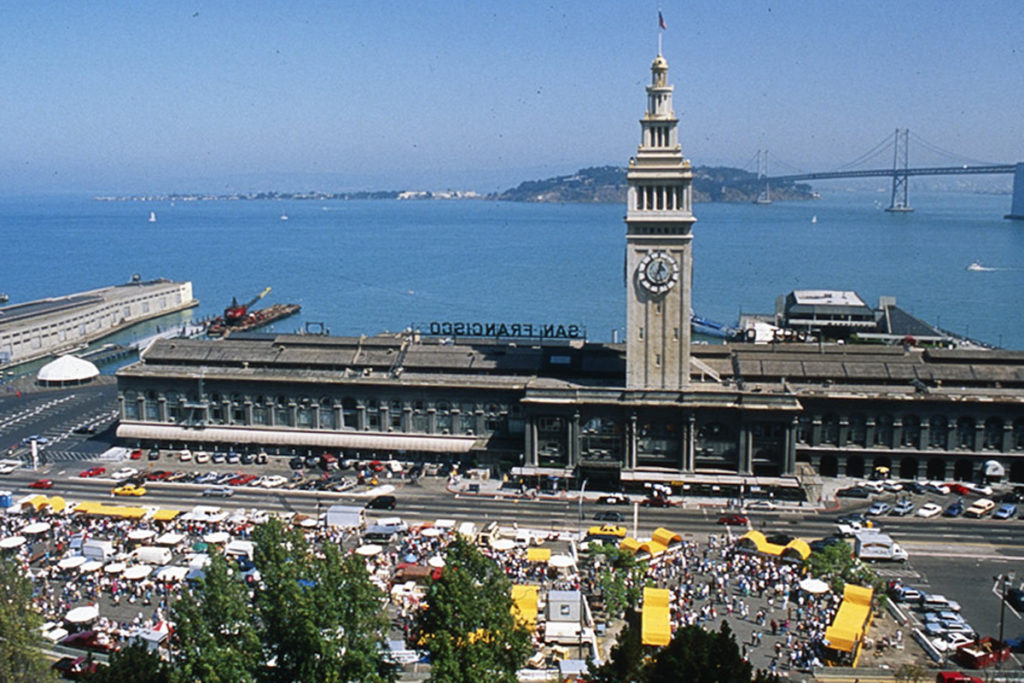 Foodwise (formerly CUESA) has deep roots in the Bay Area community and farmers market movement. Learn more about our history.
1992: Out of the rubble, seeds of a farmers market
The vision for a farmers market on the San Francisco waterfront is born. Only three years earlier, a two-tiered freeway had run along Embarcadero Roadway, separating the city from its waterfront and the historic Ferry Building. But the 1989 Loma Prieta earthquake buckled a portion of the freeway, and with its removal came the opportunity to re-envision the waterfront and ultimately provide home once again to a public market. The San Francisco Public Market Collaborative, a group of restaurateurs, farmers, planners, architects, and advocates, is founded in 1992 with the goal of establishing a public farmers market on the waterfront.
On Sunday, September 12, 1992, the Collaborative organizes a one-time Ferry Plaza Harvest Market in Justin Herman Plaza, across from the Ferry Building. More than 50 regional farmers and food producers sell produce, meats, and artisanal products, and about 15 of the city's best-known restaurants prepare street food. Generating $75,000 in sales, more than 10,000 people attend the event, and 2,122 of them sign a petition demanding a permanent market.
1993: Ferry Plaza Farmers Market takes root
The success of the initial farmers market event allows organizers to establish a weekly California Certified Farmers Market the following spring. Starting on May 22, 1993, a Saturday market is established in front of the Ferry Building, with more than 50 farmers and 10 food vendors. By the fall, it proves to be so successful that the Collaborative decides to make the market year-round. Every Saturday the plaza was transformed into a vibrant place to eat, shop, and learn. This market—with its focus on outstanding quality and sustainably grown produce—quickly develops a dedicated following, enabling more and more farmers to come to San Francisco to sell their produce directly to urban consumers.
1994: The educational nonprofit is born
The nonprofit CUESA (the Center for Urban Education about Sustainable Agriculture) is established by founder Sibella Kraus in 1994 as a sister nonprofit to the Collaborative, with the goal of educating urban dwellers about the importance of sustainable agriculture and helping them develop an understanding of their connection to California's farmland and the issues facing it. The name and nonprofit status acknowledges the founding vision of a market that educates, as well as feeds, its shoppers. Working closely with the Collaborative, CUESA offers youth and adult programming at the Ferry Plaza Farmers Market and local schools, including cooking demonstrations, produce tastings, and garden programs. CUESA later takes over management of the Ferry Plaza Farmers Market in 1999, after the Collaborative disbands.
1996: A new vision for the Ferry Building
With a growing customer base and our proximity to the downtown financial district, the market expands to include a Tuesday midday farmers market in Justin Herman Plaza, across from the Ferry Building. In 1996, the Collaborative submits a proposal to the Port Commission to establish the Ferry Building as the permanent home of the market. This long-neglected landmark has been slated for renovation, and the promise of a farmers market along the building's perimeter becomes a critical component in the redevelopment of the interior spaces. The vision for the building is a world-class food marketplace that, together with the Ferry Plaza Farmers Market, will showcase the region's agricultural bounty and food traditions. CUESA becomes a force in realizing this vision.
With waterfront redevelopment and renovation of the Embarcadero roadway scheduled to start, the Ferry Plaza Farmers Market relocates to a parking lot on Green Street on April 6, 1998.
2003: CUESA and the market return to the Ferry Building
The Ferry Building Marketplace opens on March 15, 2003, providing permanent brick-and-mortar shops for a number of the businesses incubated in the Ferry Plaza Farmers Market. In April, the Saturday farmers market returns to the Ferry Plaza, with more than 100 farm and food vendors and an estimated 30,000 attendees on opening day. The Tuesday market also moves to the front of the Ferry Building, and CUESA launches two new markets, one on Thursdays and a Sunday Garden Market showcasing regional plant growers.
The completion of the Ferry Building renovation also marks CUESA's achievement of its 10-year goal to establish a permanent home for its educational programs. CUESA builds a permanent kitchen in the arcades of the Ferry Building. It becomes the home to market-based education programs such as Shop with the Chef cooking demonstrations (which would later become Market to Table), Meet the Producer programs, produce tastings, and cookbook signings, providing free education for thousands of market visitors each year. Through CUESA's farm tour program, participants see, taste, and learn about their food first-hand, guided by the farmers and producers themselves. CUESA installs the "A to Z of Sustainable Agriculture" photomural exhibit in the arcades of the Ferry Building in 2004.
2003: Food stamps at the farmers market
The Ferry Plaza Farmers Market becomes one of the first farmers markets in the state to accept food stamps, increasing access to fresh, local food for low-income individuals and families.
2004: Market to Chef Program
CUESA formalizes the Market to Chef Program, supporting and facilitating direct sales of local farmers to Bay Area restaurants. Over the years, the program grows to serves more than 300 restaurants, becoming a critical source of income for many of the small farms and food craft businesses that sell at CUESA's farmers markets.
2007: Waste Wise Initiative & Sustainability Frameworks
On Earth Day 2007, CUESA introduces the Waste Wise initiative, a comprehensive waste reduction program and education campaign at the Ferry Plaza Farmers Market, featuring custom-made Waste Wise stations and informational displays. More than 90% of the market's trash is diverted from the landfill through the addition of composting and recycling collection. The program becomes a model for other farmers markets around the country.
CUESA develops the Sustainability Frameworks, which spell out principles and best practices for environmentally sound, humane, economically viable, and socially just food production. They are written with the input of Ferry Plaza farmers, artisans, and purveyors, and are used to inform market policy, shape education programs, and inspire change.
2009: Farewell to plastic bags
On May 23, 2009, the Ferry Plaza Farmers Market becomes the first farmers market in San Francisco (and one of the first in the country) to phase out plastic bags. The market only allows bags that are fully compostable or recyclable within the City of San Francisco waste collection program, such as compostable and paper bags.
2011: Schoolyard to Market
In spring of 2011, CUESA launches the Schoolyard to Market youth development and entrepreneurship program, which gives local high school students the opportunity to grow produce and vegetable seedlings in their school gardens and sell them at the Ferry Plaza Farmers Market. Students visit farms, learn about sustainable food systems, and gain valuable job skills.
2012: Foodwise Kids
In fall of 2012, CUESA launches Foodwise Kids, a free program for elementary school classes that uses the Ferry Plaza Farmers Market as a classroom for empowering the next generation of healthy eaters. Each class consists of an interactive farmers market learning activity followed by a hands-on cooking lesson in the CUESA Kitchen using fresh market produce. Today, the program serves more than 2,500 students annually.
2015: Increasing food access with Market Match
In July 2015, CUESA introduces Market Match a nutrition incentive program that doubles customers' buying power when they spend their CalFresh EBT benefits (food stamps), at the Ferry Plaza Farmers Market, making farm-fresh produce more accessible for all.
2016: Seller commitment to sustainability
CUESA introduces a seller pledge to encapsulate values and practices of a sustainable food system. The 15-point pledge covers a broad range of areas, such as water conservation, biodiversity, food waste reduction, and worker welfare. More than 100 permanent sellers at CUESA's markets sign the pledge.
2018: Mission Community Market
In April 2018, CUESA takes over operations of Mission Community Market on Thursday evenings, providing operational support for 40+ sellers and community programs at this thriving neighborhood market.
2019: Foodwise Teens & The Food Change
CUESA launches Foodwise Teens, a paid job training program where teens build skills to sustain healthy lives and a healthy planet. Building on eight years of the Schoolyard to Market program, Foodwise Teens transforms CUESA's youth programming and takes it to the next level. Students learn about sustainable food jobs and get hands-on experience in the garden, in the kitchen, and at the farmers market, while getting paid for their work.
CUESA unveils The Food Change, a bold new project championing farmers, advocates, and everyday people who are making positive change in our food system, including a new set of photomurals replacing the "A to Z of Sustainable Agriculture" in the Ferry Building arcade, and a companion website at thefoodchange.org.
2020-2021: Pandemic Response
In March 2020 at the start of the COVID pandemic, CUESA quickly responds to keep farmers markets open as essential community food access points. In coalition with other market operators, CUESA works with state and city officials to ensure that farmers markets remain protected as essential services. Providing access to fresh local food in an open-air setting, our farmers markets remain open throughout the pandemic, adopting new safety protocols to keep our farmers and our community connected in a time of great need and uncertainty.
CUESA launches the CUESA Farmers Market Box curbside pickup program (later called Ferry Plaza Farmers Market Delivered) to provide safe access to fresh food for vulnerable community members, while supporting small local farms and food makers in a time of financial hardship. CUESA also launches the Feed Hospitality program to provide free produce boxes to unemployed hospitality workers, while directing vital income to our farmers. CalFresh EBT usage triples at CUESA farmers markets, as more families need assistance putting healthy food on the table. CUESA increases the Market Match program to help families stretch their CalFresh dollars at the farmers market.
2021: Growing Foodwise Kids & Families
The Foodwise Kids program expands from a one-time farmers market field trip to learning experiences that engage SFUSD students, families, and teachers at their schools. Additions include hands-on cooking classes in the classroom and Family Cook Nights. Foodwise prioritizes schools where over 80% of students qualify for free and reduced price lunch, as well as schools that have higher percentages of Black, Indigenous, and People of Color (BIPOC) students.
2022: CUESA becomes Foodwise
In 2022, CUESA changes its name to Foodwise to reflect our deepened commitment to equity, food access, and education. Inspired by our Foodwise Kids and Foodwise Teens programs, the name Foodwise honors the wisdom in all of us. It celebrates the power of community to create a fair, regenerative, and delicious food future for all. Learn more.
2023: Building Equity for BIPOC Food Entrepreneurs
With its community partners, Foodwise formalizes the Building Equity program in partnership, which offers business development resources and opportunities for Black, Indigenous, and People of Color (BIPOC) farms and food entrepreneurs to market-test and sell their products and build a customer base at Foodwise farmers markets. The goal of the program is to support business growth, economic viability, and asset-building for BIPOC food entrepreneurs. Learn more.