Latine Heritage Month: Farms to Celebrate at the Farmers Market
September 16, 2022
In honor of National Latine Heritage Month (which runs September 15-October 15, commencing with a number of countries' independence days), we are recognizing and celebrating the contributions people of Latin American heritage have made to our country's economic and agricultural growth.
US food and agriculture depends on the Latin American community. About half of our agriculture workers are Hispanic, and according to the most recent Census of Agriculture, there are 86,278 Hispanic-operated farms, representing about 4% of total US farms. California is the second top state for Hispanic producers, according to the 2017 census, with over 14,000 producers.
Here's a list of farms owned by people of Latin American heritage that you can support at Foodwise's farmers markets, so that you can celebrate these essential land stewards and the range of farm-fresh produce they bring to San Francisco every week. Be sure to support these food businesses at the farmers market, too!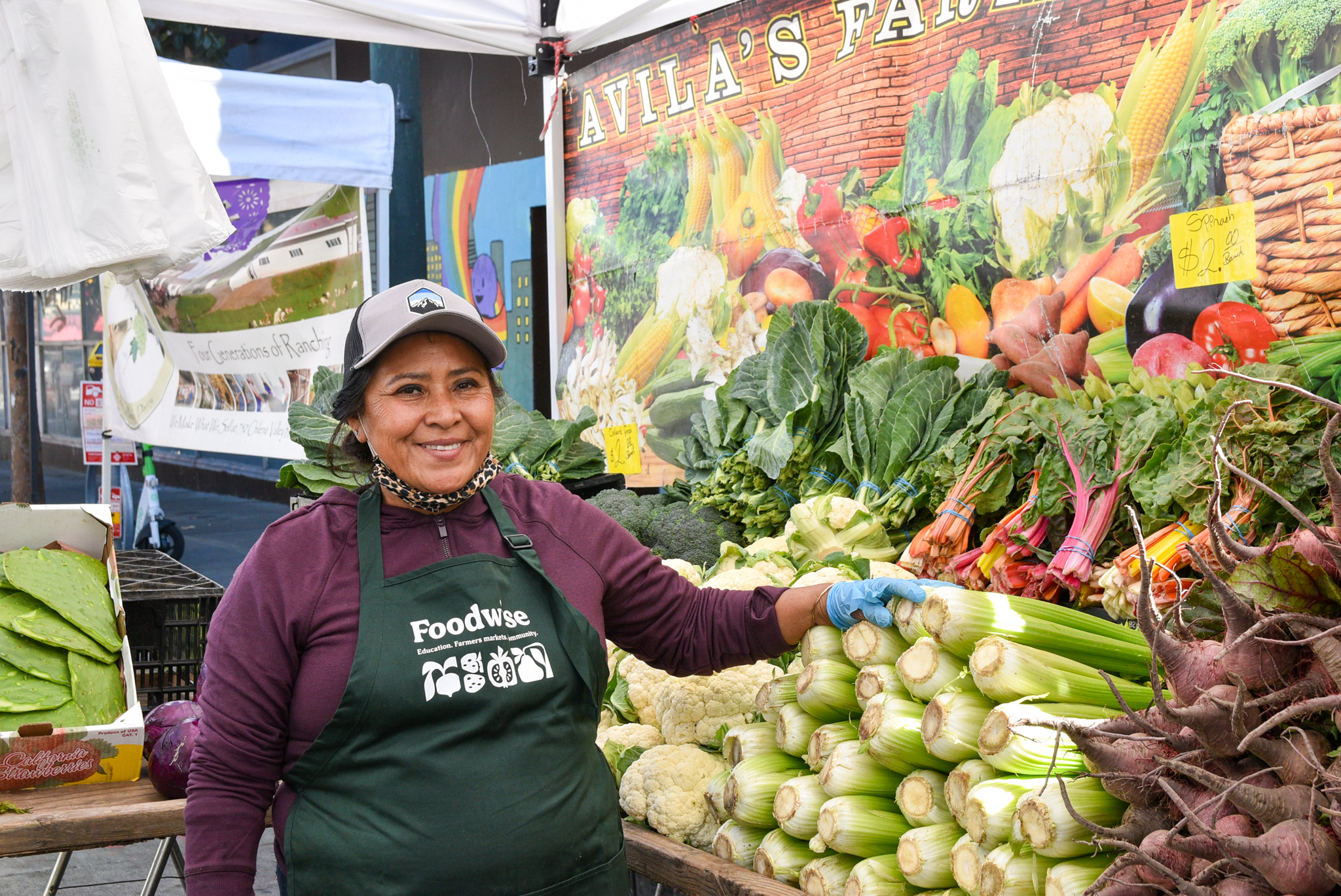 Ruben Avila and Dominga Nunez started Avila Farms in Watsonville in 2002. As their children, Jeanette and Mateo, grew older, they inherited their parents' enthusiasm for growing and started getting more involved. Avila Farms prides itself on being small, family owned, and community oriented. They have participated in the Mission Community Market since 2018, and they remain focused on building relationships with customers at the farmers market. Stop by their stand for a diverse selection of vegetables from leafy greens like kale and chard to hearty root vegetables like beets and onions. Mission Community Market, Thursday.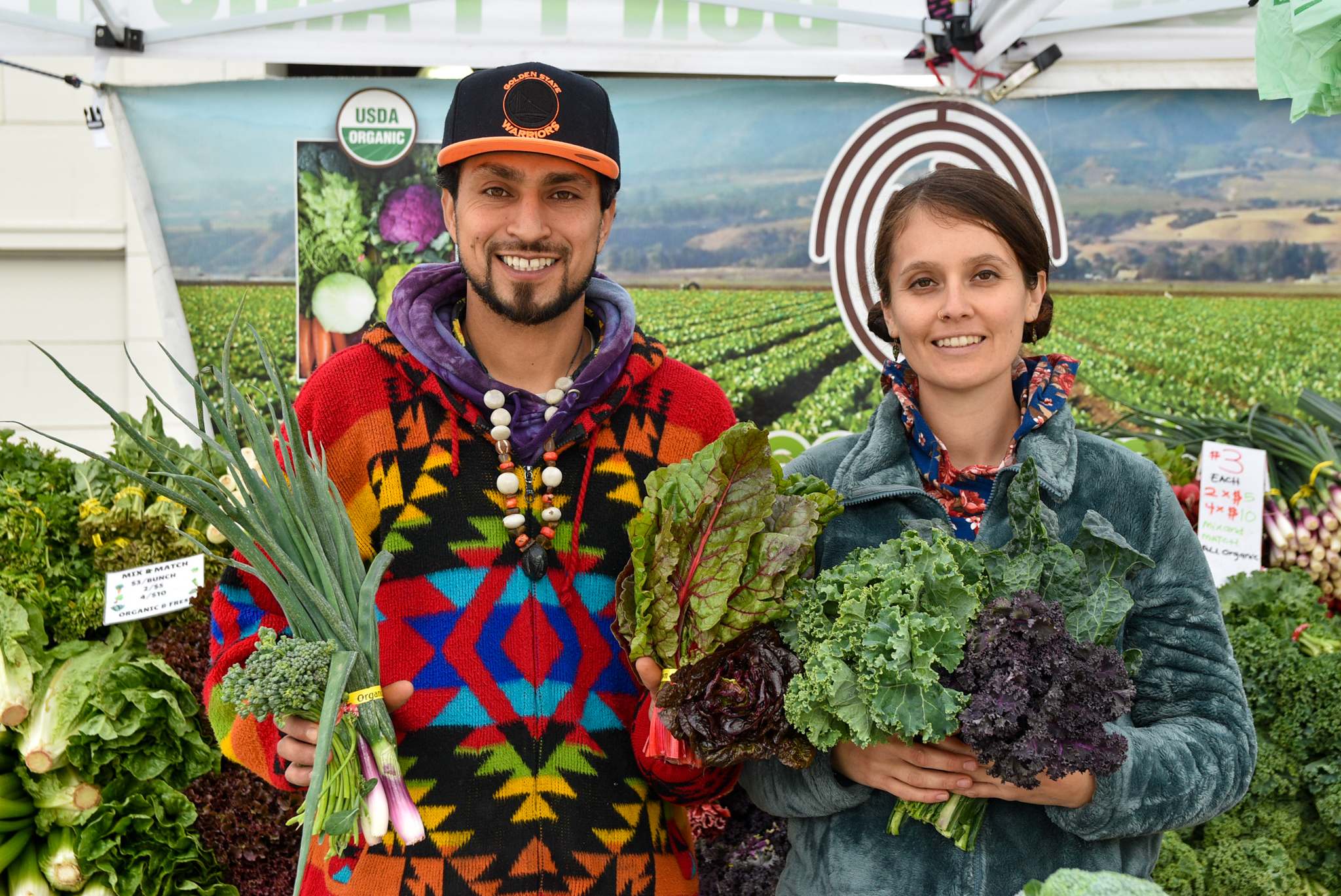 Fourth-generation farmer Rudy Jimenez's parents, Rodolfo and Rebeca migrated from Guanajuato, Mexico, and have both been instrumental in founding Green Thumb Farms, a diversified farm in San Juan Bautista. Rodolfo has since passed away, but Rudy and Rebeca continue to run Green Thumb Farms, now with Rudy's partner Maria and his sister. They also offer health education programs and farm-fresh meals for children of farmworkers in the area. Green Thumb Farms serves families, formerly incarcerated, and migrant youth by promoting healthy eating habits and advocacy for environmental, economic, and social justice. Ferry Plaza Farmers Market, Tuesday and Saturday.
Curtis and Priscilla Lucero run Lucero Organic Farms on 20 acres in Sacramento County. Curtis' father, Ben Lucero, started his first organic farm in the 1960s, and when the farmers market movement took off in the early 1990s, Ben's efforts started to pay off. Ben and his wife, Karen, retired from farming in 2018. Curtis and Priscilla are creating a sustainable, biodiverse farm. At the farmers market, shoppers can look forward to many varieties of tomatoes, summer squash, eggplant, and peppers. Ferry Plaza Farmers Market, Saturday.
David Medrano has been in the cut-flower industry for over 30 years. After working for the wholesaler for almost 15 years, he decided to start his own flower farm in 2001. He began with a small variety of flowers and now grows over 60 varieties year-round in Royal Oaks. Today, Medrano's Flowers is operated with the help of David's wife, Rosa, and his children, Carla, Saul, and Mauricio. They have been selling directly to their customers at farmers markets for almost two decades. Mission Community Market, Thursday.
Modesto Sanchez Cruz and Marsha Habib started farming to serve the community and create urban and rural connections. Based in Hollister, Oya Organics uses agroecological practices to take care of and build resilience in the soil, plants, and people. They rotate between about 50 annual crop varieties including tomatoes, squash, leafy greens, beans, peppers, peas, and herbs, while allowing weeds and insects to coexist in a healthy ecosystem. Ferry Plaza Farmers Market, Saturday.
The Rodriguez brothers bring berries and vegetables from Watsonville to the Thursday market. Roberto Rodriguez says, "We've been farmers for over 30 years. Our story begins in the late 1980s at our grandfather's farm in Michoacán, Mexico. There we developed a strong appreciation for farming. When we migrated to the U.S in the 1990s, we worked around the Watsonville, California, area picking strawberries. After many years of hard work and a strong passion for farming, we were able to start our own company in 2001." Ferry Plaza Farmers Market, Thursday.
In the 1980s, Ramon Rojas' family immigrated to the US from El Salvador. Ramon and his wife, Sonia found jobs working for a third-generation farmer, who showed them farming techniques and how to sell at farmers markets. Eventually, Ramon and Sonia started Rojas Family Farms. On their farm in Reedley, they grow different types of citrus and stone fruits, and they always bring the ripest fruits to the farmers market. Ferry Plaza Farmers Market, Thursday and Saturday.
Gladys Mondragon grew up helping out on her parents' farm, and in 2007, she officially founded her own, Sunshine Organic. Her husband, Rafael, joined the farm a decade later, and together they manage the farm while parenting two children and pursuing masters degrees in education. The farm is in Monterey County and Santa Cruz County, where they grow different types of organic vegetables as well as strawberries and cane berries. They take pride in their efforts to improve soil quality and health, and that's reflected in the flavor and nutrition of the produce. Ferry Plaza Farmers Market, Saturday.
In 1989, Ignacio "Nacho" Sanchez and his wife, Casamira, bought a six-acre orchard, and by 1993, they had acquired over 150 acres in the Central Valley. At the farmers market, they bring a rotating variety of seasonal fruits including pomegranates and citrus in the cooler months and peaches and pluot varieties in the summertime. As organic farmers, Nacho and Casamira feel good knowing that workers can pick fruit and customers can enjoy it without worrying about pesticide residues. Ferry Plaza Farmers Market, Tuesday and Saturday.
Urban Organics is a family-owned farm with a diversified selection of products from berries to vegetables in Watsonville. Adrian Mondragon started farming with his father 20 years ago, and his father has been farming for more than 40 years. Urban Organics focuses on cultivating soil development on the farm and maintaining the surrounding ecosystem. Ferry Plaza Farmers Market, Tuesday and Thursday. Mission Community Market, Thursday.
After growing strawberries for Driscoll with their parents for 12 years, Apolinar "Poli" Yerena and his brother, Gilberto, decided to lease their own farm. Poli now operates the farm with his wife, Silvia, and their children. They began growing conventionally in 1982, but in response to market demand, they are transitioning the entire farm to organic. At the farmers market, find an abundance of strawberries and other berries, along with summer squash and squash blossoms. Ferry Plaza Farmers Market, Tuesday and Saturday. Mission Community Market, Thursday.