Jerk Tofu Wrapped in Collard Leaves
Source: Bryant Terry, Vegetable Kingdom
Recipe Type: Entrees | Seasons: Autumn, Spring, Summer, Winter
The method of cooking fish in banana leaves inspired this recipe. Banana leaves play the dual role of imparting a floral, sweet, and grassy flavor to the fish as well as keeping it moist. In this recipe, I am more interested in highlighting the slightly bitter-earthy taste and the chewy texture of the collard leaves themselves, along with the tofu that has been soaked in a Jamaican-inspired marinade. Check the technique: After removing the fibrous stems from the collards, I blanch the leaves to soften them a bit. After that, I wrap the leaves around the marinated tofu, adding a sprinkle of crispy garlic before closing it up. Next, I sear the collard packets in a little peanut oil, then serve them over cilantro sauce with a garnish of cilantro leaves and crushed peanuts. If you are having any doubts about the awesomeness of this dish, I will share a quote from Kate Williams, the recipe tester for this book: "My tofu-hating husband loved this, so that's really saying something!" Use a quality extra-firm tofu like Nasoya. This dish is best eaten with a fork and knife.
Makes 4 servings
INGREDIENTS
2 (14-to 16-ounce) blocks extra-firm tofu, pressed (see note) and patted dry
2 cups Jerk Marinade (recipe follows)
1 tablespoon plus 2 teaspoons fine sea salt, plus more as needed
16 large collard leaves, tough part of the stem removed
1 cup arrowroot powder
Peanut oil, for frying
¼ cup Garlic Chips (recipe follows)
Cilantro Sauce (recipe follows)
Cilantro leaves, for garnish
Crushed peanuts, for garnish
PREPARATION
Place one block of the tofu on a cutting board. Cut it in half horizontally, then cut vertically down the center to yield four pieces. Repeat with the second block of tofu.
Pour the marinade into a large baking dish, adding just enough water to ensure that it is runny, if necessary. Place the tofu in the marinade in one even layer. Cover and refrigerate for 8 hours or overnight, flipping the tofu every 30 minutes for the first 2 hours. Remove the tofu from the marinade, scrape off any excess, and transfer to a large plate. Strain the marinade through a fine-mesh sieve and set aside.
In a large pot, bring 2 quarts water to a boil over high heat. Add 1 tablespoon of the salt. Blanch the collard leaves, one at a time, for 30 seconds each, then lay them flat on clean kitchen towels to dry.
Combine the arrowroot and the remaining 2 tea­spoons salt in a pie plate. Mix well. Coat each side of the tofu pieces with the arrowroot, shake off any excess arrowroot, and transfer them to a second large plate.
Lightly coat the bottom of a large cast-iron skillet with peanut oil and heat over medium-high heat until shimmering. Add half the tofu and fry until golden brown, 2 to 3 minutes. Gently flip each piece with a spatula and fry until golden brown on the second side. Lightly sprinkle both sides of the tofu with salt and transfer to a rack. Repeat to fry the remaining tofu. Wipe the skillet clean.
On a clean work surface, arrange two collard leaves lengthwise, overlapping each other by an inch or so, and place one piece of tofu in the center of the leaves. Smear 2 heaping tablespoons of the reserved marinade on top of the tofu, sprinkle a heaping teaspoon of garlic chips on top of the tofu, then fold the leaves around the tofu to create a packet. Repeat with the remaining collard leaves and tofu.
In the same skillet, warm 2 tablespoons peanut oil over medium-high heat, tilting the pan to coat it evenly with the oil. Place the packets in the skillet, folded-side up, and cook for about 1 minute. Gently flip each packet with a spatula, cover the skillet with a lid or some aluminum foil, and cook for about 5 minutes to warm through.
To serve, spread some cilantro sauce over four plates and place two of the tofu packets on each plate. Garnish with cilantro leaves and peanuts and serve.
Song: "I Own the Night (feat. Saul Williams)" by Christian Scott aTunde Adjuah from Ancestral Recall
Preparing Tofu
I have a complicated relationship with tofu. On one hand, I have been critical of the "delete meat and add bland tofu" ethos prevalent in plant-based cooking throughout the 1980s and '90s, and I pushed people to think about using it sparingly as cooks do in East and Southwest Asia. On the other hand, I can get down with properly marinated tofu in stir-fried dishes, soups, and even on sandwiches. The best way to flavor your tofu is by letting it sit in a thin marinade. But before you do this, I sug­gest pressing the tofu. This procedure extracts excess water, makes the block more uniformly firm, and allows the tofu to absorb the marinade more easily. Just wrap the block of tofu in a clean kitchen towel (or paper towels), place it in a large bowl or a clean kitchen sink, and sit something heavy on top of it (like a 28-ounce can of tomatoes) for 20 minutes, turning the block over after 15 minutes. After that, you can cut the tofu into the desired shape (cubes, slabs, or slices) before marinating.
Make sure your marinade is runny enough to easily permeate the tofu. You can then place the tofu in a container, pour marinade over it, cover, and refrigerate for 8 hours or overnight. To really deepen the flavor of tofu, simmer it in marinade on the stovetop or bake it in the oven until the tofu absorbs most of the marinade.
Jerk Marinade
Makes 2 cups
INGREDIENTS
1 cup chopped yellow onion
3 scallions, thinly sliced
1 tablespoon minced fresh ginger
1 tablespoon minced garlic
2 tablespoons muscovado sugar
1 tablespoon ground allspice
1 teaspoon freshly grated nutmeg
1 tablespoon freshly ground black pepper
Pinch of cayenne pepper
2 Scotch bonnet or habanero chiles, stemmed, seeded, and minced
2 tablespoons fresh lime juice
2 tablespoons apple cider vinegar
6 tablespoons shoyu
¼ cup coconut oil
2 tablespoons minced fresh thyme
Fine sea salt
PREPARATION
Combine all the ingredients except the salt in a food processor, add ¼ cup water, and puree until well combined. Season with salt to taste. Store in an airtight container in the refrigerator until ready to use, up to 1 week.
Garlic Oil (and Garlic Chips)
Makes ¾ cup oil and ½ cup chips
¾ cup olive oil
16 large garlic cloves, thinly sliced
In a medium skillet, warm the olive oil over low heat. Add the garlic and cook, stirring occasion­ally, until crispy and golden brown, 8 to 10 minutes. Strain the oil through fine-mesh sieve into a bowl, reserving the garlic chips. Use immediately or store in separate airtight containers in the refrigerator for up to 1 week.
Cilantro Sauce
Makes about 1 cup
INGREDIENTS
2 garlic cloves, minced
3 tablespoons extra-virgin olive oil
¼ teaspoon ground coriander
¼ teaspoon coarse sea salt, plus more as needed
1 cup tightly packed fresh cilantro leaves
2 tablespoons fresh lemon juice
½ jalapeño
PREPARATION
In a small skillet, combine the garlic, olive oil, cori­ander, and salt. Bring to a simmer over medium heat and cook just until the garlic is fragrant, about 1 ½ minutes. Remove from the heat and let cool.
Transfer the oil mixture to a blender. Add the cilan­tro, lemon juice, jalapeño, and ¼ cup water and blend until smooth. If necessary, season with addi­tional salt to taste. Use immediately or store in an airtight container in the refrigerator for up to 1 week.
Reprinted with permission from Vegetable Kingdom: The Abundant World of Vegan Recipes by Bryant Terry, copyright © 2020. Published by Ten Speed Press, an imprint of Penguin Random House. Photography copyright: Ed Anderson © 2020.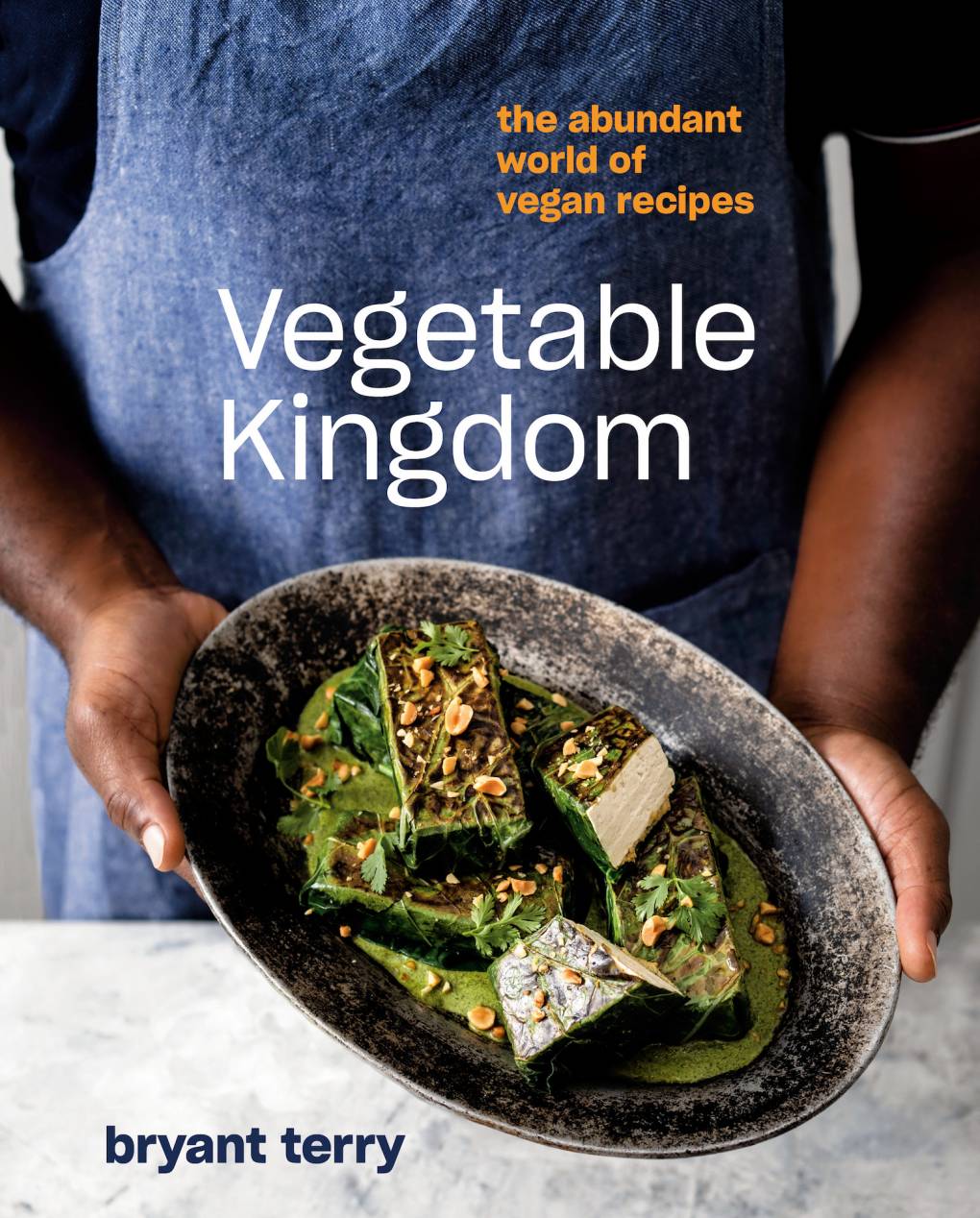 Farmers Market Ingredients