National Farmers Market Week: Why Farmers Markets Matter to Local Farmers and Chefs
Selina Knowles, Communications Coordinator
August 5, 2022
Along with connecting the Bay Area families with fresh, flavorful, and sustainably grown produce and handcrafted foods, the farmers market is also where small farmers and local food makers can directly meet the people who help sustain their livelihoods. More than just a marketplace, the farmers market nourishes all of us in so many ways, as a place to build community and share food knowledge, culture, and values. In anticipation of this upcoming National Farmers Market Week (August 7-13, 2022), here are some words of wisdom from our Foodwise sellers about what the farmers market community means to them.
"For me, being at the farmers market is about sharing my culture, communing with the people that are coming to the market, sharing, and educating. That's what it means to me. It really feels like you're sharing a table with people."
Raquel Goldman, Norte54 (pictured above)
"For us, being in the farmers market is the best way to get our message out, our philosophy on what farming is, and communicate to people just who you are as a farmer. That's why the farmers market helps us out a lot."
Adrian Mondragon, Urban Organics
"It's our livelihood, number one, but it's also a giant extended family, which is awesome. You get customers that you catch up with every week, who become an important part of your life. It means a lot, you feel cared for."
Sara McGinnis, McGinnis Ranch (pictured above, left)
"I struggle to see if we would have thrived in any other environment, and I'm really, really thankful for it. I'm thankful for all of our customers, I'm thankful for the farmers, and I'm thankful for all the farmers market organizers. Being in the farmers market, we're just so thankful. I don't think there's any other place where you can interact with your farmers and actually talk to them about the produce, and I love being able to talk to them."
Pauline Augustine, D.R.E.A.M. Doughnuts
"Running a small business can be kind of isolating, but being part of the farmers market has plugged me into a community of food makers and farmers from whom I've learned so much. Being part of this world of creative people all dedicated to reinventing the food system, to making it better for us and for the earth—that means a lot to me."
Aruna Lee, Volcano Kimchi (pictured above)
"The market feels like a huge family, like everyone is part of it. People know every single vendor, and recognize this is a new vendor right away. I love chatting with customers because they want to know what they're eating, and everything about your product."
Jojo Zhu, Papa's Dumpling
"The farmers market is a mutually benefiting mechanism. It's a benefit for the people that shop there, in that they're getting high-quality, tree-ripened products, and it's a benefit for the farm because we're getting higher than commodity pricing. We're bringing a good product, and it's something that people can't get at a local grocery store, something that's fresh, right off the tree."
David Hale, Hale's Apple Farm (pictured above)
"My personal favorite thing about having the farm is talking to customers at the farmers market. I realize a lot of people at the farmers market don't immediately get that they're talking to the farmer, not just a salesperson. Then, they start coming to the booth just to talk, or to ask, "Where should we buy this other ingredient?" and you become friends with them. It's a lot of fun. I really like the Ferry Plaza Farmers Market, it's my favorite."
Val Gavelovskyy, Gavel's Farm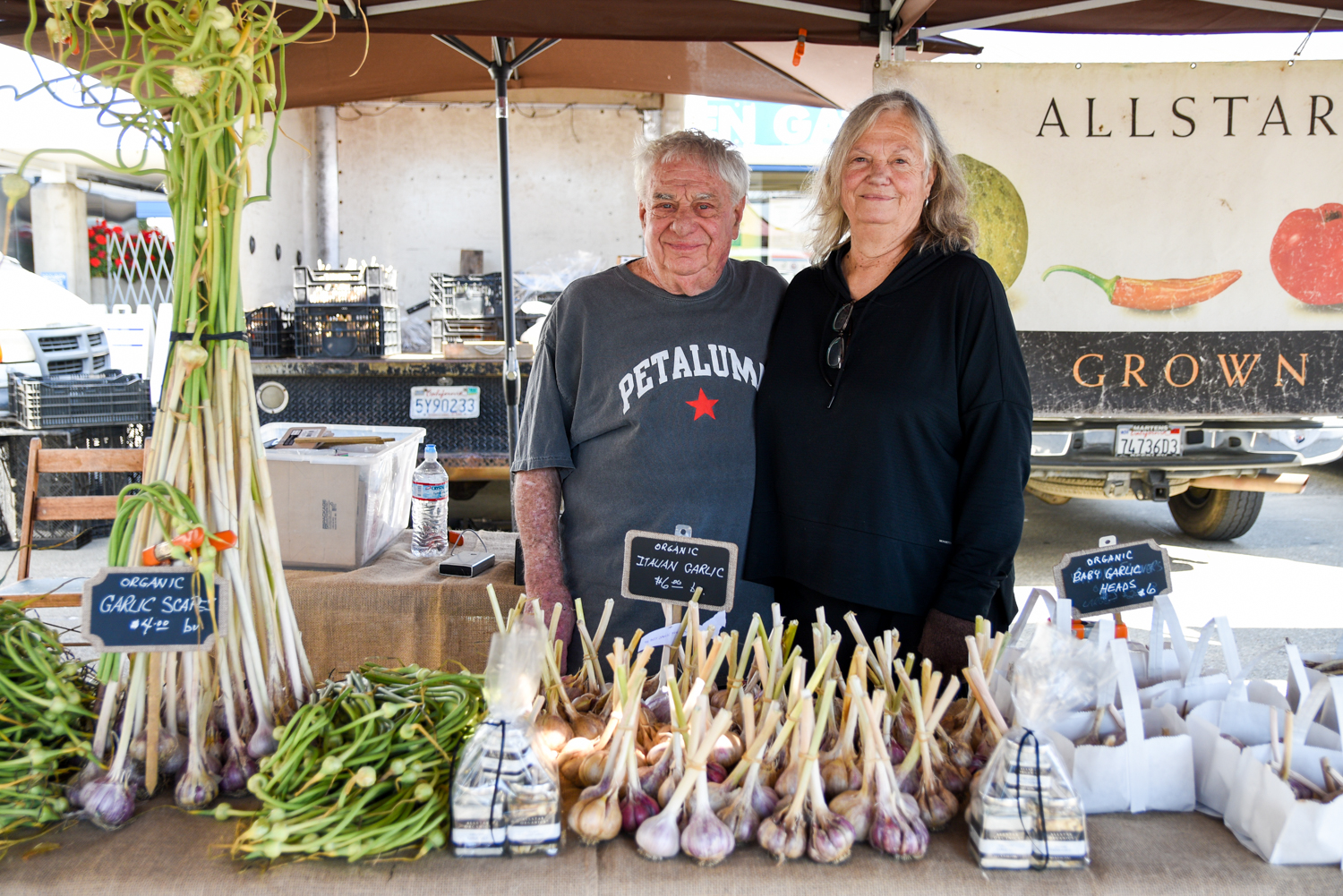 "It's just really almost impossible to put into words how grateful we are. I think it's hard for people to imagine how important coming here is because no one makes this market alone. We all make it together."
Janet Brown, Allstar Organics (pictured above, right)
"We're a small farm, and the goal at one point was to become big. But I feel like being small, with the family working the farm, we have better connections with customers. We have become good friends with customers. They're always sending us pictures of what they made with the food, and that's our biggest joy, seeing it go directly from our farm to customers' tables. And even though becoming a little bit bigger and selling to stores or supermarkets has been an option, we've decided that farmers markets are our main goal, just to keep in touch with customers."
Jeanette Avila, Avila Farms
Support small farms and businesses at the Ferry Plaza Farmers Market on Tuesdays and Thursdays, from 10am-2pm, and Saturdays, from 9am-2pm, and at the Mission Community Market, from 3-7pm.
Celebrate National Farmers Market Week at the Ferry Plaza Farmers Market on Saturday, August 13, by attending a free Market to Table cooking demo, and bring the whole family for a free coloring activity. Find more information and see upcoming events here.
Topics: Community, Farmers market