18 Inspiring Women Farmers You Should Know
March 2, 2023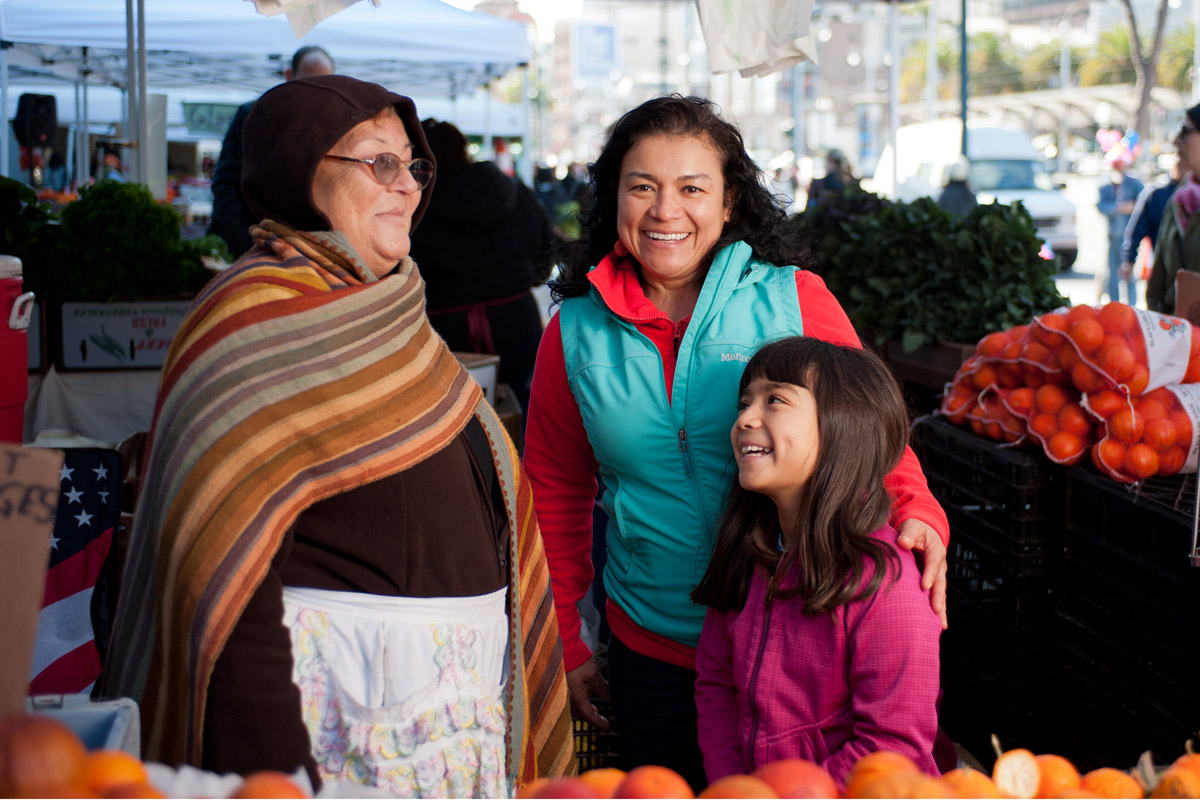 It's Women's History Month, so what better time to celebrate the millions of women who are so vital to our food system? Globally, women make up half of the agricultural workforce, and a third of farmworkers in the United States are women. According to the most recent Ag Census, about 36 percent of farm operators are women, making them one of the fastest growing groups of farmers.
Though not a comprehensive list of all of the hardworking women farmers and farmworkers in our market community, here are a few you can find and support at Foodwise's farmers markets this time of year. (Be sure to support these women-led food businesses at the farmers market, too!)
Janet Brown, Allstar Organics
Many people know Janet Brown for the delicious organic vegetables she brings to the farmers market from Allstar Organics, where she farms with her partner, Marty Jacobson. In addition to farming for the last 20-plus years, Janet has also been actively working to create connections in her community through the Marin Food Policy Council. Saturdays, Ferry Plaza Farmers Market.
Corie Brooks, Brooks and Daughters
Coming from a background as a food scientist, Corie Brooks launched her sprout business in 1996. She named her business "Brooks and Daughters" in honor of her two young girls. She is proud of the business and sells 80% of the sprouts (alfalfa, radish, broccoli, and more) directly to consumers. All Brooks & Daughters farming is currently done by women. Saturdays, Ferry Plaza Farmers Market.
Lorraine Walker, Eatwell Farm
One of the Ferry Plaza Farmers Market founding farms, Eatwell Farm grows a wide variety of fruits and vegetables, and sells many specialty products made from the lavender and other herbs they grow. The farm also sells pasture-raised eggs. Eatwell also operates a sizable community supported agriculture (CSA) program. The founding farmer, Nigel Walker, passed away in 2017, but his wife, Lorraine, and the Eatwell family carry on the Eatwell legacy. Saturdays, Ferry Plaza Farmers Market.
Joy Dolcini, Farmer Joy
Farmer Joy is a sixth-generation family farm in Chileno Valley. Joy Dolicini and her family began by raising cattle and pigs on pasture to produce their own meat, and eventually started selling to local businesses in 2018. When Joy's children started raising chickens, she began selling eggs at their preschool and eventually made it a business. "We always say we raise our animals with love because we really do love them," says Joy. Saturdays, Ferry Plaza Farmers Market.
Aomboon Deasy, K&J Orchards
The daughter of Kalayada Ammatya and James Beutel (K&J), Aomboon "Boonie" Deasy has carried on the family legacy in partnership with her husband, Tim, and been a driving force in marketing the farm and developing their strong following among Bay Area chefs. The diverse farm has sold its tree-ripened fruits to more than 100 Bay Area restaurants, such as Benu and the French Laundry. Saturdays and Tuesdays, Ferry Plaza Farmers Market.
Moira Kuhn, Marin Roots Farm
Having previously worked at County Line Harvest, Moira Kuhn now farms at Marin Roots Farm in Petaluma with her husband, Jesse. She has helped build the farm's restaurant clientele, while innovating and helping to develop the farm's niche with specialty crops like edible flowers. Why does she love farming? "I love the challenge, and I love that farming is all-consuming. It's your entire life." Saturdays, Ferry Plaza Farmers Market.
Raquel Krach, Massa Organics
Originally trained as a tropical biologist, Raquel became drawn to sustainable agriculture and agroecology, which led her move with her husband, Greg, back to his family's farm. They grow rice and almonds and raise pigs and sheep in a diverse ecosystem, applying their love ecology to make the farm more environmentally sustainable. Saturdays, Ferry Plaza Farmers Market.
Sandi and Sara McGinnis, McGinnis Ranch
Aunt-and-niece team Sandi McGinnis-Garcia and Sara Evett took over Sandi's father's farm, ushering in a new era by transitioning to organic and experimenting with new crops and cut flowers. "Giving back to the land but also providing people with fresh food feels good at the end of the day," says Sara. "I think a lot of people think that it would be a thankless job, but it is not at all. I couldn't ask for more." Saturdays, Ferry Plaza Farmers Market.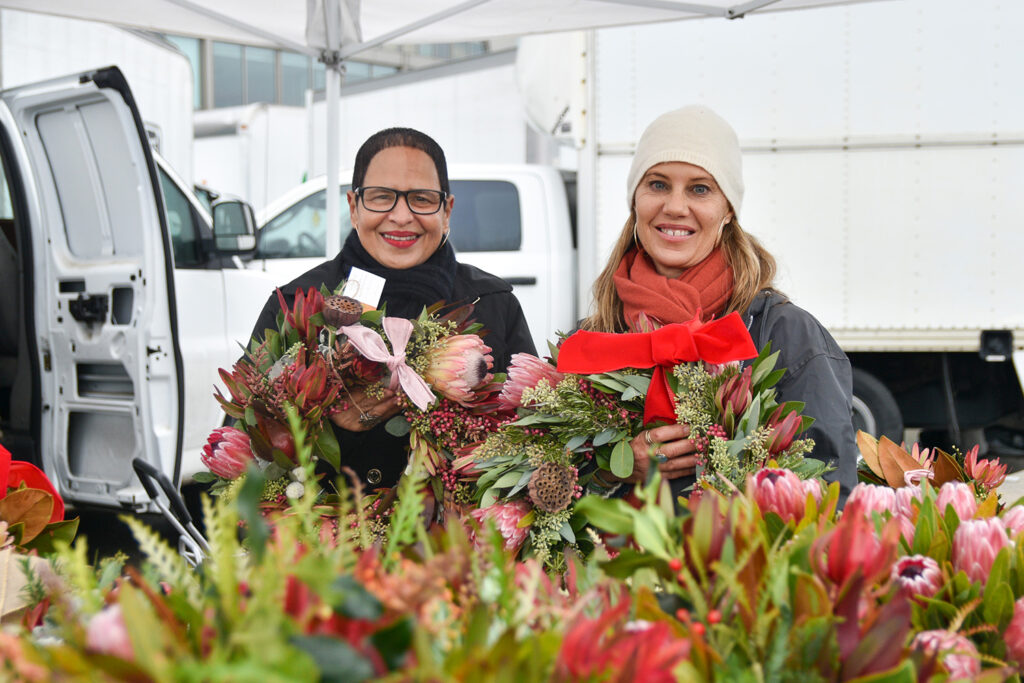 Jill Gammons, Four Sisters Farm
Robin and Nancy Gammons began farming in Aromas in the 1970s, and they named their farm after their four daughters: Lucy, Jill, Dusty, and Prema. One of their four daughters, Jill, is now following in her parents' footsteps, growing flowers on the farm. The Gammons' approach to farming has always been organic and ecological, and they have a strong commitment to maintaining a natural, healthy ecosystem. Saturdays, Ferry Plaza Farmers Market.
Mollie Sitkin, Old Dog Ranch
Mollie Sitkin tends to walnut orchards, which thrive in the San Joaquin Valley's deep, well-drained soil and low winter temperatures. To diversify the farms' offerings, Mollie launched the farm's value-added product line, including seasoned walnuts and walnut butters. Mollie is dedicated to farming in a way that nourishes the living earth, and two of the Sitkins' three walnut Orchards are Regenerative Certified Organic. First Saturdays of each month, Ferry Plaza Farmers Market.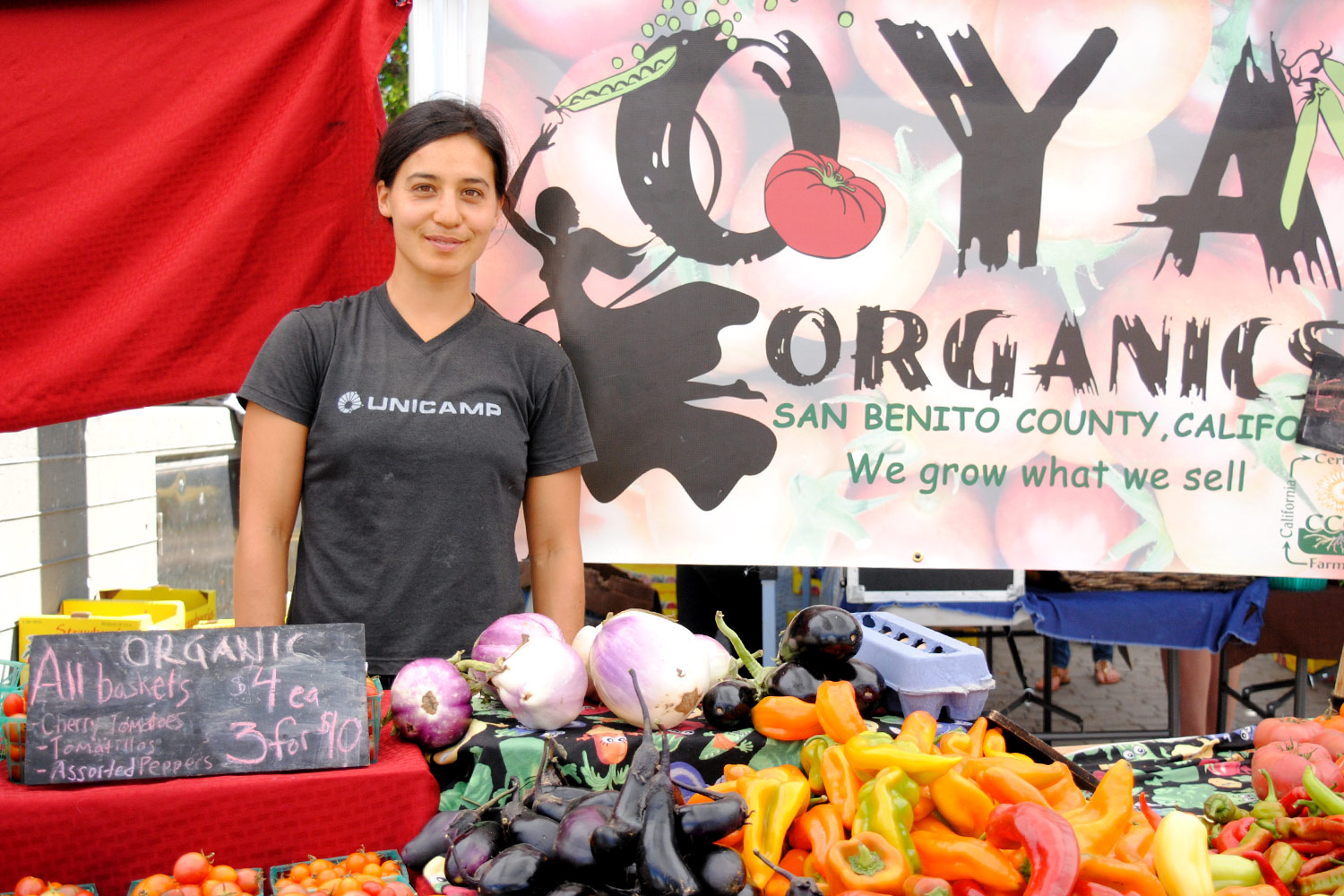 Marsha Habib, Oya Organics
Marsha Habib started farming as a one-woman, one-acre operation to serve her community and create urban and rural connections. Oya Organics gradually grew to more acreage as her partner, Modesto, and other people joined the farm. They now run a fully diversified farm with about a dozen employees. "I don't want us to get big and just keep growing and growing," she says. "I want to be at a scale where I know every acre of the farm and have a personal relationship with the plants and employees." Saturdays, Ferry Plaza Farmers Market.
Jill Giacomini Basch, Lynn Giacomini Stray, and Diana Giacomini Hagan, Point Reyes Farmsead Cheese Co.
The Giacomini sisters' father, Bob, began milking cows in Point Reyes in 1959, and over time, the family developed a vision of bringing value-added farmstead cheeses directly from their ranch to the table. In 2000, they founded Point Reyes Farmstead Cheese Company and produced the first vat of their famous Original Blue. Point Reyes Cheese prides itself in being women-owned, with many women team members, and has an official Women-Owned Small Business certification from The Women's Business Enterprise National Council. Saturdays, Ferry Plaza Farmers Market. (Photo by David Briggs)
Audrey Hitchcock, Ramini Mozzarella
Ramini Mozzarella was founded in 2008 by husband-and-wife team Craig Ramini and Audrey Hitchcock. Ramini is one of very few U.S. producers of authentic, artisan, 100% buffalo mozzarella and ricotta. Craig tragically passed in 2015. Today Audrey makes all of the cheese and manages the herd of 70 water buffalo locally in Tomales, many named after her favorite women rockstars like Pat Benatar, Dionne Warwick, and Joan Jett. Saturdays, Ferry Plaza Farmers Market.
Sonia Rojas, Rojas Family Farms
Known for their juicy citrus in the winter, sweet stone fruit in the spring and summer, and bountiful grapes in the fall, Rojas Family Farms has provided locally grown fruit to customers from their the Fresno and Tulare area farms for the last 20 years. "We take pride in knowing that our customers are taking quality fruit home, which they can share with their families at home. We strive for the best customer service, and to bring joy to all of our customers," says Sonia. Saturdays, Ferry Plaza Farmers Market.
Dede Boies, Root Down Farm
First-generation farmer Dede Boies started her own ranch in Pescadero to do her part in combatting the negative impacts of industrial animal agriculture. Today, Root Down Farm is a diverse, pasture-based farm that raises heritage chickens, turkeys, ducks, and pigs. "Even though my farm is just a teeny tiny drop of change, I am trying to do the best I can to raise animals in a way that is healthy for each creature, the land, and the bellies they feed," says Dede. Saturdays, Ferry Plaza Farmers Market.
Annabelle Lenderink, Star Route Farms
Star Route Farms is the oldest continuously certified organic farm in California, known for its innovativeness and commitment to economically, environmentally, and socially sustainable practices. In 2017, Star Route was sold by the farm's founder, Warren Weber, to the University of San Francisco (USF) to provide educational and academic opportunities on a working farm, but it continues to be co-managed by longtime farm manager Annabelle Lenderink. Saturdays, Ferry Plaza Farmers Market.
Lee James, Tierra Vegetables
Lee James started farming in 1980 with her brother, Wayne, at Tierra Vegetables in Sonoma County. The farm has made its reputation with a wide variety of vegetables, heirloom beans, and unusual chile varieties, as well as hot sauces and other products made by Lee and her kitchen staff. What does Lee love about farming? "I enjoy almost everything. You can be your own boss and do what you want to do. I wouldn't have chosen anything else." Saturdays, Ferry Plaza Farmers Market.
Tamara Hicks, Toluma Farms & Tomales Farmstead Creamery
Longtime lovers of the West Marin landscape, Tamara Hicks and David Jablons purchased 160 acres of rolling pasture a few miles from Tomales Bay and dubbed them Toluma Farms in 2003. With capital from the Marin Agricultural Land Trust (MALT) and a USDA rural development grant, the couple embarked on several years of intensive land restoration. Tomales Farmstead Creamery was born in 2012. Today, the family raises heritage-breed goat and sheep recognized for their high-quality milk to make their award-winning cheeses. Saturdays, Ferry Plaza Farmers Market.
This article was updated from a previously published version.
Topics: Farmers