17 Women-Led Food Businesses You Should Know
March 2, 2023
It's Women's History Month, but do we really need an excuse to celebrate women and the vital role they play in our food system? Women produce more than half of our food worldwide. From the fields to the kitchen, women are leading the movement for healthy and sustainable food.
While by no means a definitive list, these 17 visionary women entrepreneurs are making delicious and sustainable food, and nourishing our community each in her own way. You can find them in Foodwise's farmers markets year-round, rain or shine. Be sure to support these women farmers at the farmers market, too!
Mariko Grady, Aedan Fermented (pictured above)
Following the 2011 earthquake in her home country of Japan, Mariko Grady (pictured center) started selling her homemade miso to friends to raise money for the victims. Through Aedan Fermented, she now brings the traditions of healthy and flavorful Japanese cuisine to the table with fermented foods such as miso, koji, and amazake. Saturdays, Ferry Plaza Farmers Market.
Jen Musty, Batter Bakery
Jen Musty, a lifelong baker, made the leap from accounting to catering in 2006, offering good old-fashioned baked treats with a modern twist, and an emphasis on premium farmers market ingredients. With accolades from the Food Network, she now has a couple shops in San Francisco in addition to her farmers market stand. Saturdays, Ferry Plaza Farmers Market.
Arielle Danan, Beber Almondmilk
Arielle's interest in food and farming germinated in her hometown of Chico. After graduating from high school, she set off on an agricultural adventure, working on organic farms around the world, and while living abroad, she learned how to make almond milk. She came back to Chico and started making her own to sell at farmers markets, using organic California almonds. Saturdays, Ferry Plaza Farmers Market.
Binita Pradhan, Bini's Kitchen
An immigrant from Kathmandu and a participant in La Cocina's food business incubator program, Binita Pradhan (pictured at the beginning of this article) prides herself in being the only Nepalese caterer in San Francisco. You can try Bini's momos (Nepalese dumplings) with home-ground spices at the Saturday market or at her kiosk on Market Street. Saturdays, Ferry Plaza Farmers Market.
Pamela Augustin and Pauline Pastor, D.R.E.A.M. Doughnuts
Bakers and partners Pamela Augustin and Pauline Pastor describe D.R.E.A.M. as "A proudly immigrant and female-owned and powered business that focuses on making the best small-batch doughnuts using high quality and seasonal ingredients." At their stand, treat yourself to signature doughnuts like The O.G. (Madagascar vanilla bean glaze) and Ooh Baby (Ube filled and glazed), along with savory offerings such as Green Garlic Buns and an Adobo Danish. Saturdays, Ferry Plaza Farmers Market.
Kendra Kolling, The Farmer's Wife
Kendra Kolling is married to the apple farmer behind Nana Mae's Organics, but her farm-fresh sandwiches, soups, and salads are creations all her own. Her decadent grilled-cheese sandwiches have won numerous accolades, both at local fairs and nationwide. Saturdays, Ferry Plaza Farmers Market.
Xan Devoss, Fox and Lion Bread Co.
Fox and Lion Bread Co. is a neighborhood bakery and cafe in San Francisco's Bayview-Hunters Point. Xan Devoss bakes using organic ingredients and whole-milled grains, emphasizing the flavor of the grains and using long fermentation process. They honor the tradition of bread making as a way to nourish the community as well as the farmer and the miller. Thursdays, Mission Community Market.
Kitiya Ditpare Homs, Kitiya
For Kitiya Ditpare Homs, cooking fresh food has been a lifelong passion that started in her family's kitchen in Bangkok, where she was regularly surrounded by vibrant fragrances and bold flavors of Thai cuisine. After popping-up with La Cocina, Kitiya joined the Ferry Plaza Farmers Market as a permanent vendor, offering Thai curry pastes and sauces and creamy Thai tea. Saturdays, Ferry Plaza Farmers Market.
Yeyen Gunawan, La Vie Wellness
Since 1995, yoga enthusiast Yeyen Gunawan has been crafting probiotic juices, wellness beverages, and superfood snacks as La Vie. For a healthy morning pick-me-up, stop by her stand for kvass, kefirs, pure coconut water, green smoothies, or sprouted almond milks. Saturdays, Ferry Plaza Farmers Market.
Olivia Mecalco, Mi Comedor
A participant of La Cocina's incubator program, Mi Comedor owner Olivia Mecalco makes antojitos inspired by her grandmother's cooking and her memories of Mexico City, including sopes, huaraches, pambazos, tacos, tortas, and other street food favorites. Don't miss her made-from-scratch quesadillas! Tuesdays and Thursdays, Ferry Plaza Farmers Market; Thursdays, Mission Commnity Market.
Raquel Goldman, Norte 54
Norte 54 offers modern Mexican baked goods focusing on traditional pan dulce (pastries), using seasonal produce and local organic ingredients. Born in Mexico, Raquel Goldman moved to Miami at the age of five, but Mexico remained a formative part of her childhood as she returned every summer to visit her grandmother. In 2020, she started Norte 54 as a pastry box delivery program, while popping up at farmers markets with a rotating menu of pan dulce, such as cochas, novia, and more. Thursdays, Mission Commnity Market.
Jennifer Huang, Nusa
Nusa (formely called 1000 Layer Bakery) was founded in 2013 by chef and owner Jennifer Huang who grew up in Indonesia. When her family immigrated to the Bay Area, Jennifer learned how to cook and bake with the intention of sharing her favorite childhood desserts with her family and the Bay Area. Stop by for Indonesian treats, many of which are gluten-free and vegan. Saturdays, Ferry Plaza Farmers Market.
Karen Taylor & Team, Primavera
If you've savored Primavera's popular chilaquiles, you have Karen Taylor and her amazing mostly female staff, all of whom are Latino immigrants, to thank. (And if you haven't, add those chilaquiles to your bucket list.) From tortillas to salsas, all of Primavera's products are made by hand, using local and organic ingredients when possible, at their Sonoma County kitchen and restaurant, El Molino Central. Karen was recently nominated for a James Beard Award. Saturdays, Ferry Plaza Farmers Market.
Brittany Dunn, Saltwater Bakeshop
Established in 2018, and new to the Ferry Plaza Farmers Market, Saltwater Bakeshop focuses on naturally leavened artisan breads and croissants made with organic, locally grown, and seasonal ingredients. Look for Saltwater Bakeshop in the back plaza, and give Brittany a warm welcome. Saturdays, Ferry Plaza Farmers Market.
Lenore Estrada, Three Babes Bakeshop
Growing up in the Central Valley, Lenore and her friend Anna baked pies to give away to their friends. Years later, they started a pie-making business together with the goal of supporting local farms (Anna has since left the business). Three Babes' offerings change seasonally, and their apple pie has been named among the best in America by Food & Wine. Last year, Lenore founded the nonprofit SF New Deal, which has helped keep the city's independent restaurants alive while also feeding vulnerable populations. Saturdays, Ferry Plaza Farmers Market.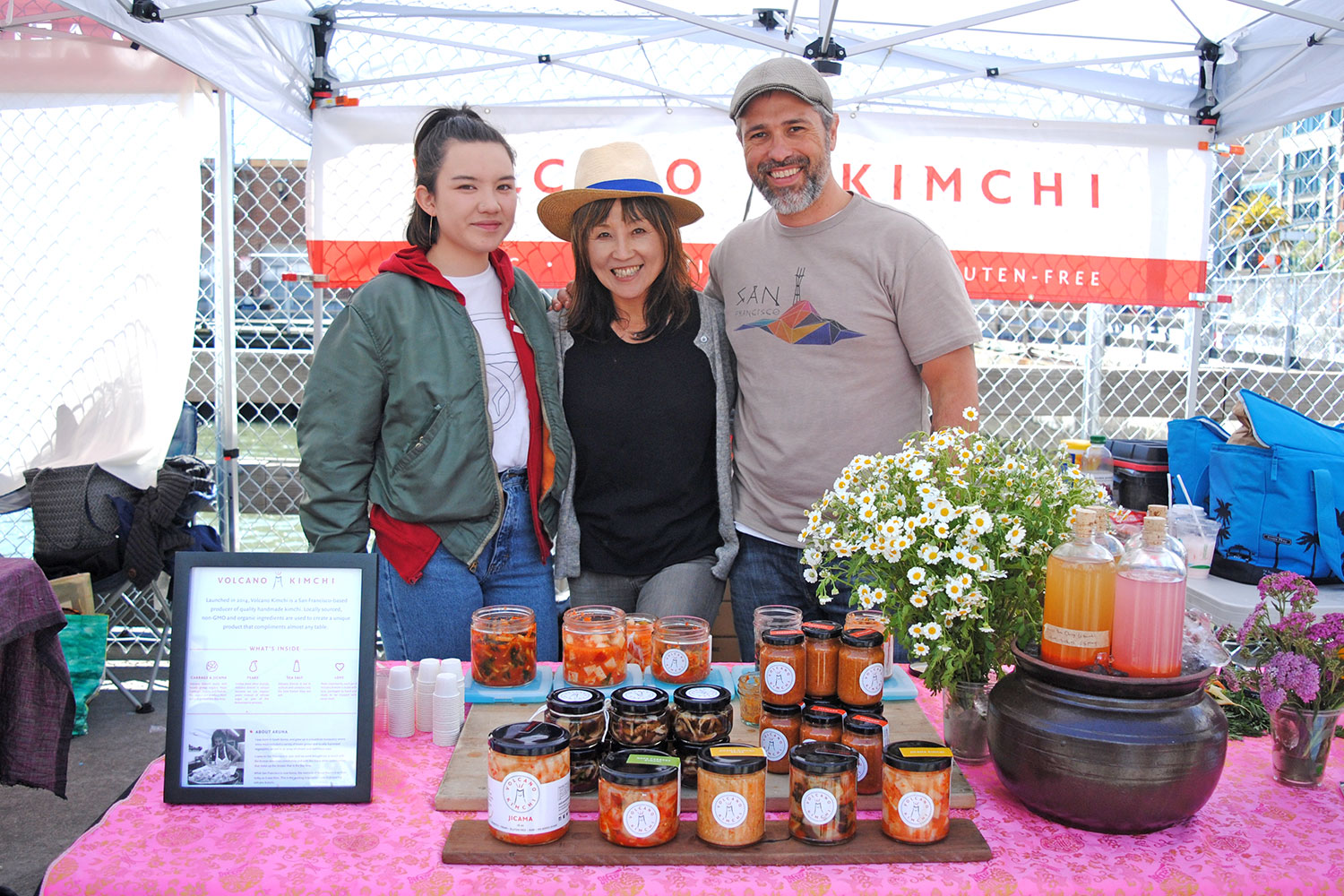 Aruna Lee, Volcano Kimchi
Inspired by her childhood growing up in Buddhist temples in South Korea, Aruna Lee offers vegan and organic kimchi handcrafted in San Francisco. Her signature product is Napa Cabbage and Jicama Kimchi, while seasonal ferments include products like Super Spicy Habanero Persimmon Kimchi, Oyster Kimchi, and Jicama Kimchi Salsa. Saturdays, Ferry Plaza Farmers Market.
Mary Risavi, Wise Goat Organics
After years slinging produce for Heirloom Organic Gardens farm, Mary Risavi now brings her passion for local produce and nutrition back to farmers market with Wise Goat Organics, a one-woman kraut business based in San Juan Bautista. Try Wise Goat's carefully made, hyper-local ferments, which range from the classic to experimental. Saturdays, Ferry Plaza Farmers Market.
The article was updated from a previously published piece.
Topics: Culinary, Entrepreneurship, Equity, Small business