12 Asian Pacific American Food Businesses at the Farmers Market
Savannah Kuang, Foodwise Staff
April 24, 2023
In celebration of Asian Pacific American Heritage Month, we have compiled a list of Asian Pacific American-owned food businesses that are part of Foodwise's farmers market community. Enjoy locally made miso, dumplings, kimchi, momos, and other handcrafted specialties, while supporting talented Bay Area food crafters who are making our local food system more diverse, healthy, and delicious.
Following the 2011 earthquake in her home country of Japan, Mariko Grady started selling her homemade miso to friends to raise money for the victims. Through Aedan Fermented, she now brings the traditions of healthy and flavorful Japanese cuisine to the table with fermented foods such as miso, koji, and amazake.
Must-try: While their country miso is widely popular among market goers and chefs, their shio koji (a living fungus that is used to ferment soybeans and potatoes for sake, among other things) imparts a rich savory flavor to every dish. It can be used in place of salt in dishes or sauces, giving you an umami-rich way to lower the sodium content.
Where to find them: Ferry Plaza Farmers Market on Saturdays. On May 13, stop by the Foodwise Classroom for a cooking demo by Mariko, plus free samples and recipes.
An immigrant from Kathmandu and a participant in La Cocina's food business incubator program, Bini Pradhan prides herself in being the only Nepalese caterer in San Francisco. Through her momos (Nepalese dumplings), Bini recalls not only the foods of her upbringing, but also the feeling of community and celebration during countless gatherings with her parents, siblings, and friends.
Must-try: The momos, of course! Available filled with turkey or vegetables, and served with a spicy tomato cilantro sauce.
Where to find them: Ferry Plaza Farmers Market on Saturdays
A few years ago, bakers and partners Pamela Augustin and Pauline Pastor had no idea they would be running a thriving doughnut business through Bay Area farmers markets. With their background in hospitality, high-quality food and service were unquestionable priorities from the start of D.R.E.A.M. Doughnuts in 2020. Their quest to share quality doughnuts with their local community has also become a way for them to showcase staple Filipino flavors.
Must-try: Their savory offerings include Green Garlic Buns and an Adobo Danish, inspired by the national dish of the Philippines.
Where to find them: Ferry Plaza Farmers Market on Saturdays
As a child in Vietnam, Minh Tsai took morning strolls with his grandpa to the neighborhood tofu shack. The freshness and artisan-quality of the soymilk, tofu, and yuba of his childhood eluded Minh for many years and ultimately led him to leave a finance career to found Hodo in 2004. Hodo now supplies tofu to Chipotle nationwide, sweetgreen, and notable Bay Area restaurants including The Slanted Door, State Bird Provisions, The Progress, and Mister Jiu's.
Must-try: One of Hodo's most popular products is their Sesame Yuba Noodles, which are made from the protein-packed skin that forms on the surface of soy milk when making tofu. They're delicious hot added to a stir-fry, and equally good cold right out of the box for a quick meal.
Where to find them: Ferry Plaza Farmers Market on Saturdays (Photo: Jen Siska)
Growing up, Kitiya Ditpare was involved with her family's restaurant in Bangkok. Her mother's cooking techniques laid the foundation for her recipes, but their cooking style and flavors couldn't be more different than one another. She attributes this to her leaving Bangkok in 2005 and traveling the U.S., living in big, bold cities like New York, DC, Chicago, and now San Francisco, places all influencing her palette, food, and determination to create a business. Kitiya is also a part of La Cocina's kitchen incubator program. At the farmers market, she offers Thai curry pastes and sauces and creamy Thai tea.
Must-try: Kitiya's Prik Gang Tai is a vegan southern style curry paste that was showcased in her Lamb Jam Award winning dish.
Where to find them: Ferry Plaza Farmers Market on Saturdays
Since 1995, yoga enthusiast Yeyen Gunawan has been crafting probiotic juices, wellness beverages, and superfood snacks as La Vie. Yeyen researched the benefits of raw food, juicing, and probiotics and began making food and lifestyle changes to bring herself back to health. Since 2005, she has been sharing what she discovered through her line of La Vie Wellness drinks and juice cleanses. A long-time believer in the importance of access to local and fresh foods, she sells her products at farmers markets and local grocery stores throughout the Bay Area.
Must-try: For a healthy morning pick-me-up, stop by her Ferry Plaza Farmers Market stand for kvass, kefirs, pure coconut water, green smoothies, or sprouted almond milks.
Where to find them: Ferry Plaza Farmers Market on Saturdays
The Lee brothers—Dennis, Daniel, and David—founded Namu in December 2006 with the intention of serving contemporary California cuisine with an Asian flair. The Lees felt the contemporary American restaurant world lacked diversity and set out to serve food they loved and were inspired by. Namu now offers vegan and vegetarian options on their menu as a way to introduce another perspective on food for plant-based eaters. They source directly from farmer Kristyn Leach of Namu Farm, who specializes in vegetables and herbs that are traditional to Korean cuisine.
Must-try: If you love bibimbap, try their dosirak! This dish includes housemade vegetarian kimchee, mung bean sprout, white rice, toasted seaweed, and daily pickle and your choice of chicken or tofu.
Where to find them: Ferry Plaza Farmers Market on Saturdays
Driven by a mission to introduce Indonesian cuisine to the Bay Area, Jennifer Huang dedicated herself to learning how to make the cakes, pastries, and snacks that she grew fond of while growing up in South Sumatra. Nusa's small-batch desserts and treats, which Jennifer now sells at the Ferry Plaza Farmers Market, pay homage to her cultural heritage.
Must-try: Although Nusa's signature 1000 Layer Cake is typically eaten on special occasions, you can (and should) treat yourself to it on any Saturday. For a taste of an Indonesian staple ingredient, pandan, try the brightly colored Pandan Coconut Mochi.
Where to find them: Ferry Plaza Farmers Market on Saturdays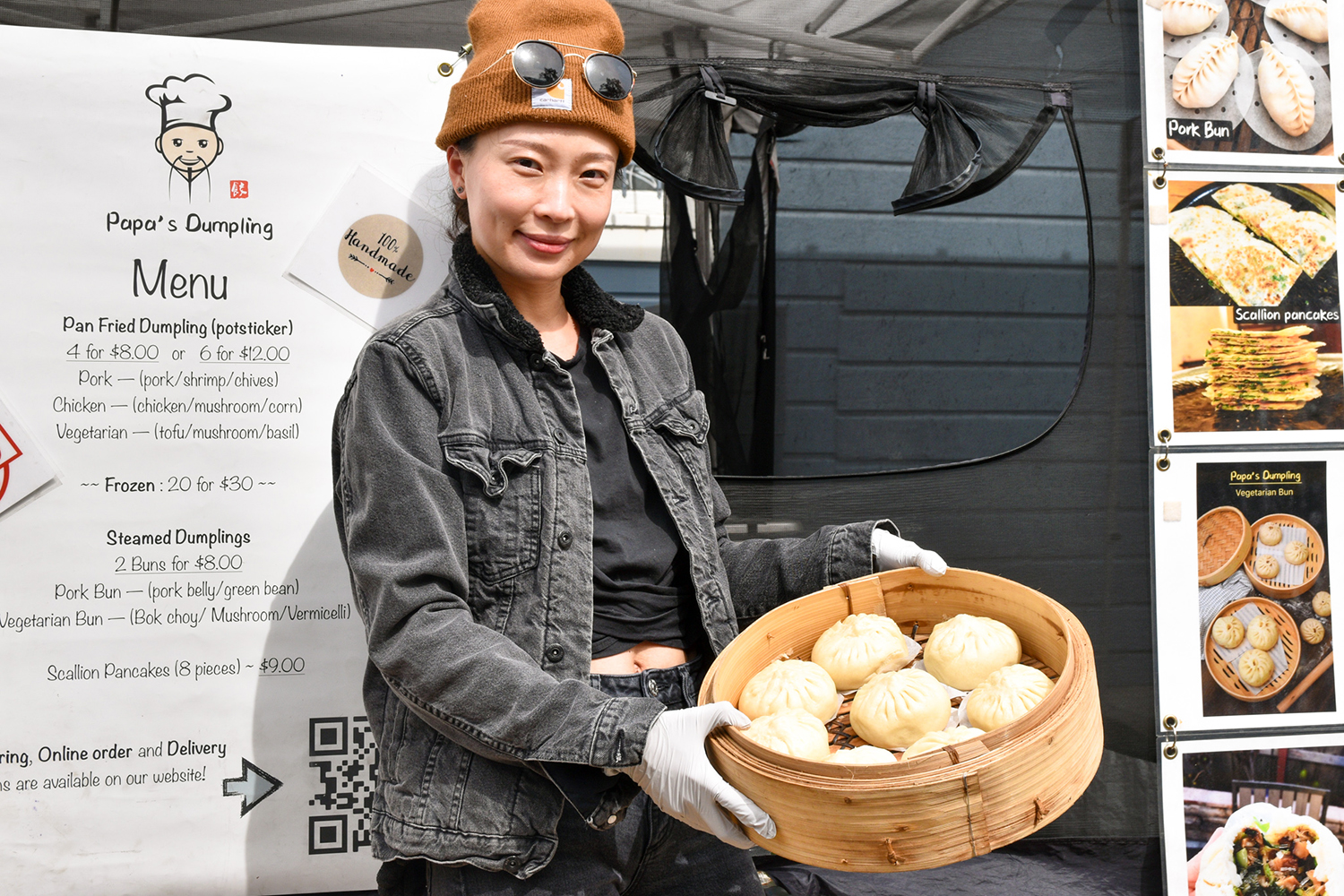 Based in Livermore, Jojo Zhu prides herself in making authentic handmade dumplings, potstickers, and buns reflecting the seasons and Chinese traditions. Papa's offers vegetarian and vegan options, too.
Must-try: Jojo's freshly made dumplings are cooked to order, including the pan-fried potstickers in varieties like pork, shrimp, and chives; chicken, mushroom, and corn; and tofu, mushroom, and basil, filled with large flavorful chunks. You can also order them frozen to fry up at home.
Where to find them: Mission Community Market on Thursdays
The Malik brothers worked with Sukhi's Gourmet Indian Foods in the farmers market for more than 10 years, doing almost 25 farmers markets per week for Sukhi's. During their market days, the brothers had realized that customers are familiar with Indian food, but not with Pakistani cuisine. The Malik brothers founded Roti in 2017 to introduce Pakistani food in farmer markets. Directly from Punjab Pakistan, Roti offers authentic Pakistani vegan cuisine using generations-old family recipes, regional spices, and local ingredients.
Must-try: If you had naan before, try their stuffed paratha, which is essentially stuffed flatbread with spinach. Their chutney sauces are also great with the parathas!
Where to find them: Ferry Plaza Farmers Market on Saturdays and Mission Community Market on Thursdays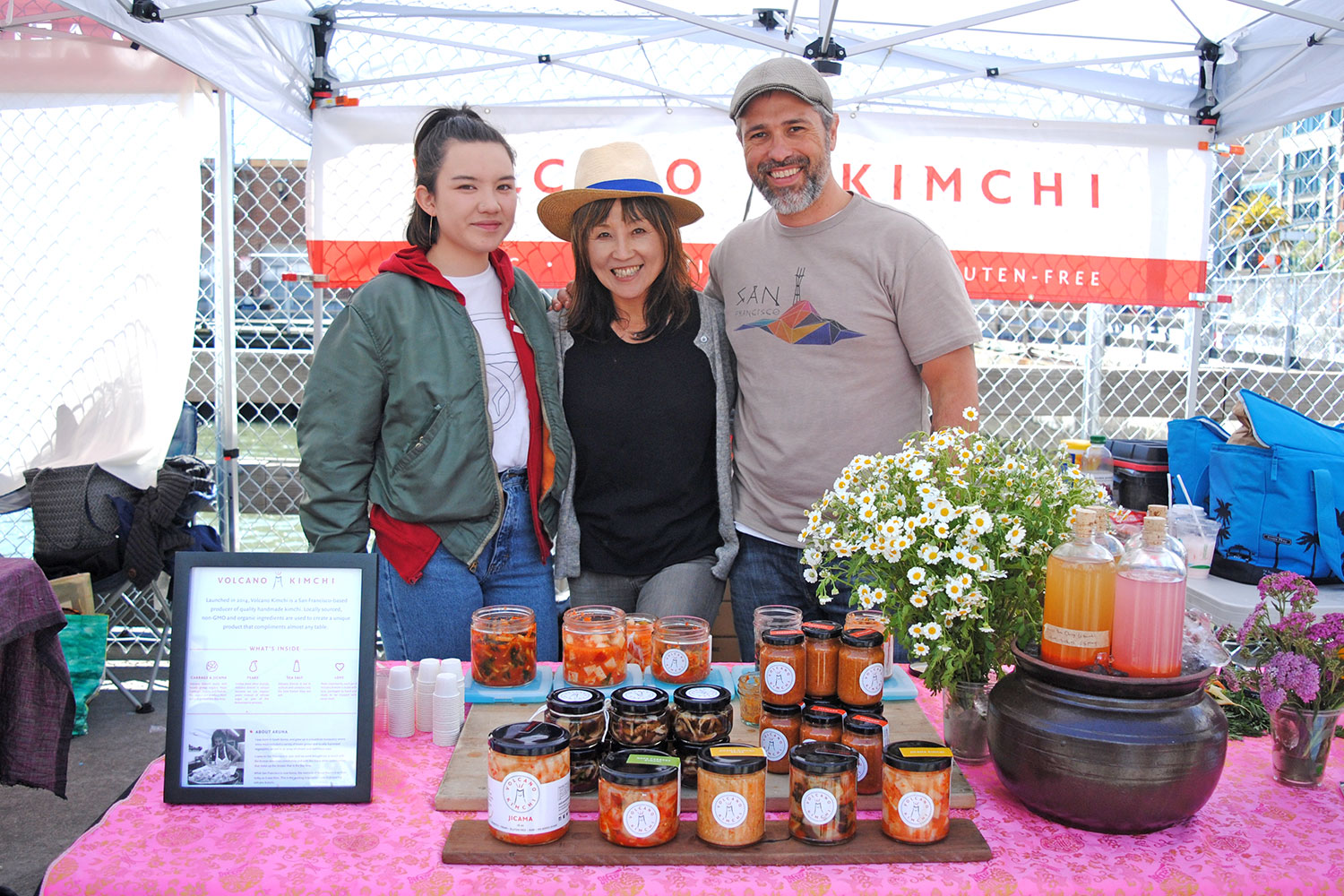 Aruna was born in South Korea and grew up in a Buddhist monastery where homegrown vegetables were at the heart of every meal. She launched Volcano Kimchi in San Francisco in 2014 with the aim of creating a high-quality, organic, vegan kimchi reminiscent of her youth.
Must-try: Volcano's signature product is Napa Cabbage and Jicama Kimchi, but be sure to ask about any seasonal offerings, which have included items like Super Spicy Habanero Persimmon Kimchi, Oyster Kimchi, and Jicama Kimchi Salsa, all using ingredients from the farmers market.
Where to find them: Ferry Plaza Farmers Market on Saturdays
After years slinging produce for Heirloom Organic Gardens farm, Mary Risavi moved on to pursue her master's in Traditional Chinese Medicine, but she now brings her passion for local produce and nutrition back to the Ferry Plaza Farmers Market with Wise Goat Organics, a one-woman kraut business based in San Juan Bautista.
Must-try: Wise Goat's hyper-local krauts, kimchis, and kvasses rotate with the seasons and range from classic to experimental. Her Spicy Garlic Kraut recently won a Good Food Award. For a supercharged health boost, try their Supergreen Kraut (with spirulina, chlorella, and stinging nettles) or Golden Kraut (with turmeric and other spices).
Where to find them: Ferry Plaza Farmers Market on Saturdays
This article has been updated from a previously published version.
Topics: Equity, Farmers market, Local, Prepared foods, Small business