From Bok Choy to Moringa: GG Farm Continues a Family Legacy
Savannah Kuang and CUESA Staff
February 12, 2021
Bok choy, yu choy, lemongrass. Opo, sinqua, bitter melon. Depending on the season, these are just some of the vegetables and herbs you'll find at GG Farm at the Ferry Plaza Farmers Market. For more than 30 years, the Moua family has grown a wide variety of traditionally Asian crops at their Fresno farm.
"We've been experimenting and growing more and more different crops every year due to popular demand from farmers markets," says second-generation farmer Gary Moua, who recently took over managing the family farm (formerly known as MNC Moua Farm) from his parents.
"I always been helping my parents with farming, but this is the first year where I'll be taking care of everything, and they'll just be relaxing." Even in retirement, though, they won't be able to resist getting their hands in the soil, Gary concedes with a laugh. "But now only when they want to, like planting veggies they want to eat."
From Laos to the Central Valley
Gary's parents, Dirksen and Chee, migrated from Laos to California in the 1980s bringing their knowledge of farming, so they decided to start growing vegetables. "My parents stuck with farming ever since they got here because it's all they knew," says Gary. "They had to learn everything on their own and learn from their mistakes each year."
Gary's parents, along with thousands of Laotian refugees, fled to Thailand to escape the Vietnam War, and immigrated to the U.S. to escape persecution. The Central Valley, especially Fresno, is home to the nation's largest Hmong diaspora, primarily refugees from Laos who arrived in the late 1980s to become farmers. Among all the refugees, the Hmong people had the fewest resources to adapt to American society. As a result, the Hmong relied on farming as a solution to feed themselves and their community.
"It was a bit difficult for my parents at first because they worked their way toward finally being able to save up for farming equipment," says Gary. "They never had tractors at the time nor any farming equipment. My dad was finally able to buy three tractors later on, which made it easier for him."
Struggling to Find Farmworkers
Gary and his family currently don't have any farmworkers, so they do all the work on their 16-acre farm themselves, which can make it challenging to keep up with market demand.
"One of the hardest things about farming is that when you don't have workers, you have to manage the farm and the farmers markets stands at the same time," says Gary. "So when we're at the markets, there's no one taking care of the farm."
According to a 2019 California Farm Bureau Federation survey, more than half of Californian farmers have been struggling to find sufficient labor to harvest their crops over the last five years. As immigration policies have become more restrictive, many migrant farmworkers are aging and not being replaced by the next generation or American-born workers, while some have moved on to higher paid jobs and other industries. This can make finding and keeping workers difficult for farmers.
"Not having farmworkers is challenging because we have trouble keeping up with everything," says Gary. "It's been difficult to manage both at the same time without farmworkers."
Moringa, Winged Beans, and More
Despite the hard work and long hours, Gary remain dedicated to growing a diversity of crops for Asian communities and beyond. At GG Farm's stand, you may find Thai peppers, eggplant, okra, and many varieties of basil in the summer, or kabocha squash, Okinawa sweet potatoes, and wax gourds (aka winter melon) in the fall.
Gary recalls numerous instances when he received questions about how to prepare a specific item, and he's been able to educate customers. "We always get questions such as 'What is this for?' or 'How do you prepare it?' and even 'What are the benefits?'"
Some popular crops Gary gets requests for are bitter melon, winged beans (a four-angled legume originating in New Guinea), and moringa (a plant native to Africa and Asia that has edible leaves, pods, seeds, flowers, and root). The moringa leaves are known to be high in protein, vitamins A and C, calcium, zinc, iron, magnesium, and potassium.
"I always tell people about moringa and educate them a little about it. We always sell out of it at the majority of the markets we're in," says Gary. "Most people that come to the farmers markets are those that we've known for a while, so they trust the quality of the products that we bring to them."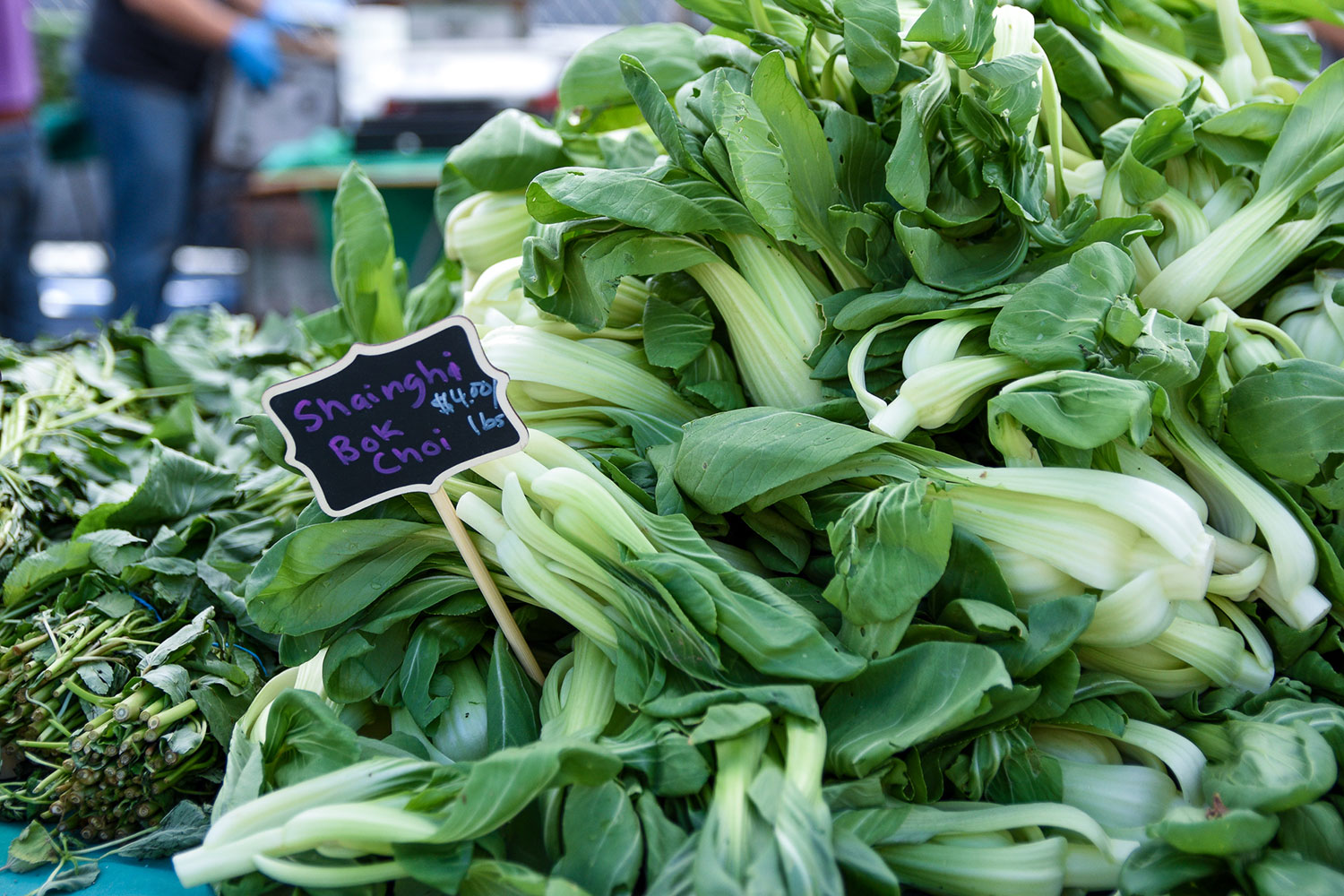 Planning for a More Hopeful Year Ahead
Focusing on Asian vegetables has helped the Mouas define their niche at the farmers market. "Every year, we have lots of customers who tell us they want us to grow this or that [vegetable], and it just helps us overall at the market," says Gary. "We also do our best to explain what each crop is used for and the benefits of those crops."
As with most farms, the pandemic has brought new challenges and uncertainties, but farmers markets have kept GG Farm in business. "We're just a small family farm, we're not a big farm," says Gary. "Last year wasn't our best year with fewer restaurants and people showing up at the market, but we did pretty okay, considering."
Though much remains unknown, Gary is cautiously optimistic about the year ahead, as he plants new varieties of herbs to bring to market. "Hopefully this year it will get a lot better. Ferry Plaza is one the best markets I've been to, and I'm really happy to be part of the market."
Find GG Farm at the Ferry Plaza Farmers Market on Saturdays, in front of WETA plaza.
Photos of bitter melon plant and farm field courtesy of Gary Moua. This article was updated from a previously published version.