The Farmers Market Community Faces a New Reality
Savannah Kuang, CUESA Staff
March 20, 2020
With Mayor London Breed announcing a shelter-in-place order to prevent the spread of COVID-19 earlier this week, and a statewide directive issued yesterday, many San Franciscans have rushed to stock up on food and other necessities in grocery stores, leading to long lines and empty shelves. Meanwhile, farmers markets remain open as an essential service, providing fresh produce and pantry items directly from local farmers.
While farmers continue to bring their harvests to market to feed our community, market sales have dropped tremendously, creating much uncertainty. "I have no idea how things will unfold in the coming weeks," said Jill Kayne of Four Sisters Farm. Farmers and restaurants are rapidly adjusting their operations to this new reality, while many community members continue to rely on the farmers market for their basic food needs.
Putting Safety First
Farmers markets offer some advantages over grocery stores, with shorter lines and more space for social distancing. Compared to most grocery stores, which rely on global supply chains, farmers market food travels a much shorter distance, with minimal handling from field to market.
"It's better to get your fresh produce at the farmers market where it isn't handled as much because you don't have the middlemen," said Lorraine Walker of Eatwell Farm. "It was all picked yesterday. Also, any time you're outside breathing fresh air, it's better than shopping inside the grocery store with recycled air."
At the Ferry Plaza Farmers Market, CUESA has been taking additional health and safety measures, including handwashing stations, eliminating sampling, and posting guidelines on how to keep a safe distance while shopping.
Farmers are also taking extra precautions to ensure a safe shopping experience. "We've been using gloves and offering hand sanitizers, and have also been putting up signs reminding people not to touch our vegetables unless you intend to purchase them," said Sandi McGinnis-Garcia of McGinnis Ranch. "We have extra gloves for customers, too."
As an alternative to sampling, fermented foods crafter Mary Risavi of Wise Goat Organics is offering a full refund if shoppers aren't satisfied with her products after purchasing. She also accepts online orders for doorstep delivery. "Food crafters like myself are always sourcing their ingredients locally and organically," said Mary. "As long as shoppers feel confident to shop in the market, I will continue to be here for them as well."
Restaurant Closures Impact Farmers
While farmers depend on loyal market shoppers who support them every week, they're facing another stark reality: restaurant closures.
Through CUESA's Market to Chef program, more than 300 restaurants purchase local produce in bulk from local farmers. Some farmers rely on restaurants for up to half of their sales, but as restaurants are facing huge losses and rushing to pivot from dine-in to takeout, fewer restaurants are buying produce, and in smaller quantities. "With restaurants being impacted and now closed, it's trickling down to us," said Jill at Four Sisters Farm.
"Many of us are suffering the domino effect of a hospitality industry in crisis," said Will Brokaw of Brokaw Ranch Company, who supplies avocados and citrus to dozens of Bay Area restaurants. "What most of us want is to keep our loyal and hardworking staff members as employed as possible, and keep our production capabilities ready for when circumstances improve."
Some restaurants offering takeout continue to purchase from their favorite farmers. Farmer Bill Crepps of Everything Under the Sun is grateful for the restaurants that are still coming to the market. "Restaurants still buy from me because they know it's good and know where it comes from," he said. "Even though their businesses are slow, they're still supporting the farmers."
Maggie Spicer and Michael Molesky of Douglas, a corner store and cafe in Noe Valley, continue to shop the market on Saturdays. "It's really important during these times because supporting our farmers and local food shed is what sustains us, and we need nutrient-dense ingredients and produce," said Maggie.
Michael agrees. "Ultimately, farmers are dealing with particularly perishable products too, and so it's important to buy them right now rather than later," he said. "So, we want to do everything we can to help find a great home for that produce, which is in our food space."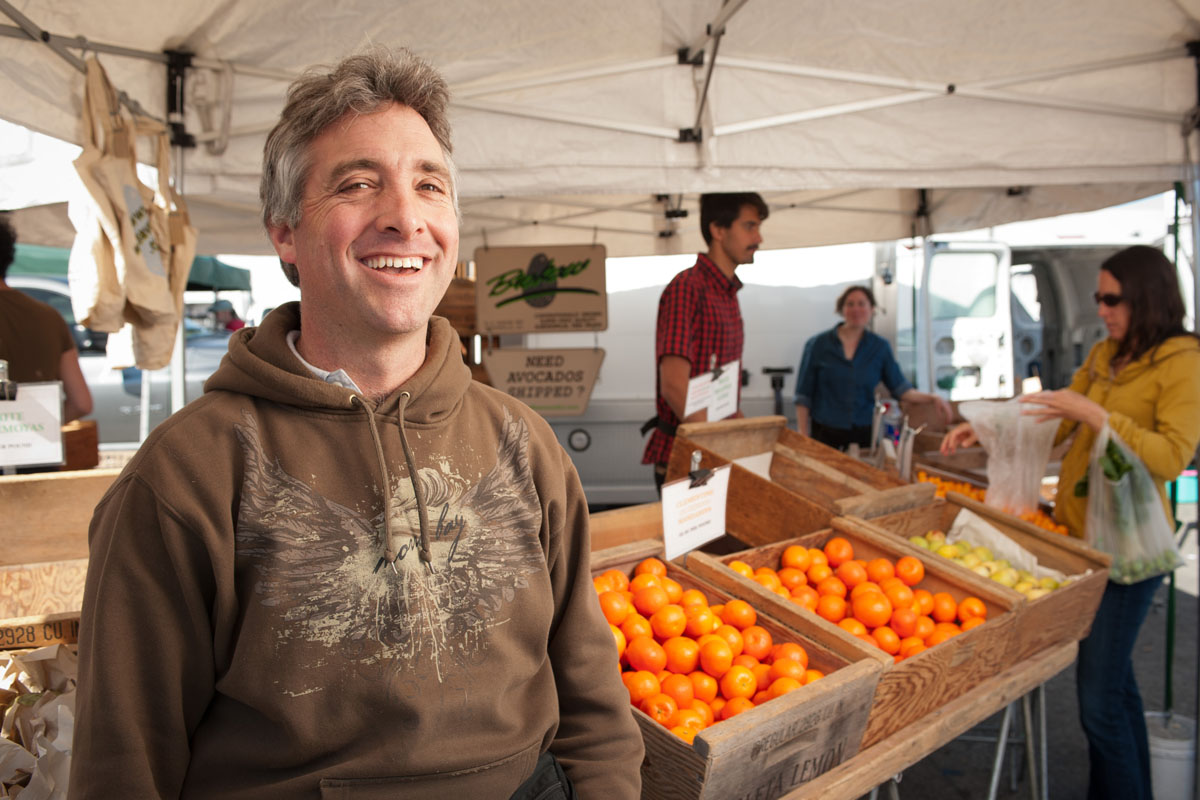 Community Resilience Through Tough Times
For shopper Maria, the Ferry Plaza Farmers Market is a go-to source for food every Saturday. "It's important to shop at a farmers market right now because the food is higher quality and not from a grocery store," she said. "Being outside in the open air is a lot healthier, which is beneficial mentally and physically."
But not everyone is able to leave their home to shop the farmers market, which has increased the need for delivery options. A few of CUESA's farmers offer CSA (community-supported agriculture) memberships, where members can pre-order their fresh food. "We've actually been fortunate because what we've seen recently is an uptick in CSA membership," said Lorraine of Eatwell Farm. "What we're seeing is our current CSA members are ordering tons of food more than usual."
While much uncertainty remains, farmers have also been feeling a greater sense of community. "My regular shoppers have been coming out and are very sweet about the entire situation while still social distancing, being careful with the produce, and patiently waiting for others before approaching our booth, which has been encouraging to see," said Sandi of McGinnis Ranch.
Lorraine shares a similar sentiment. "Now more than ever, we must be grateful for our local food community—not just us the farmers and purveyors, but all of you who come to the market every week to support us," she said. "COVID-19 is showing us just how important it is to have a healthy, local food system for you to turn to. When this is all over, I know we will come out of this with a greater understanding and appreciation for our community."
Jill also feels resilience from the community. "We really need each other," said Jill. "I'm incredibly grateful for our market community. We will get through this crisis together."
Support local farmers at the Ferry Plaza Farmers Market on Saturdays, Tuesdays, and Thursdays. You can also find pickup and delivery options here.
For more information on CUESA's response to COVID-19, click here.
Topics: Community