Chef Sarah Germany Preserves Food and Tradition to Create Recipes That Heal
Selina Knowles, Communications Coordinator
July 28, 2023
When Sarah Germany was eight years old, her grandmother called her into the responsibility of caring for people through food. "You're going to make Sunday dinner this weekend," she told Sarah. "We'll help you out, but dinner's on you." After creating a feast of meatloaf, green beans, and mashed potatoes for her family and neighbors who spilled out from the nearby church, she felt a sense of power and love that she's never forgotten.
Throughout her career, she has continued to take on culinary leadership while working her Bay Area community. She managed Youth Uprising's Corners Cafe in Oakland and worked as a purveyor for Mandela Partners before joining their business incubation program. As part of Foodwise's Building Equity Program, Chef Sarah Germany has participated in the Pop-Ups on the Plaza events, and she has a booth at the Ferry Plaza Farmers Market on Saturdays this summer. Chef Sarah builds on southern food traditions to create deeply flavorful medicinal foods, while preserving the bounty of California farms and gardens.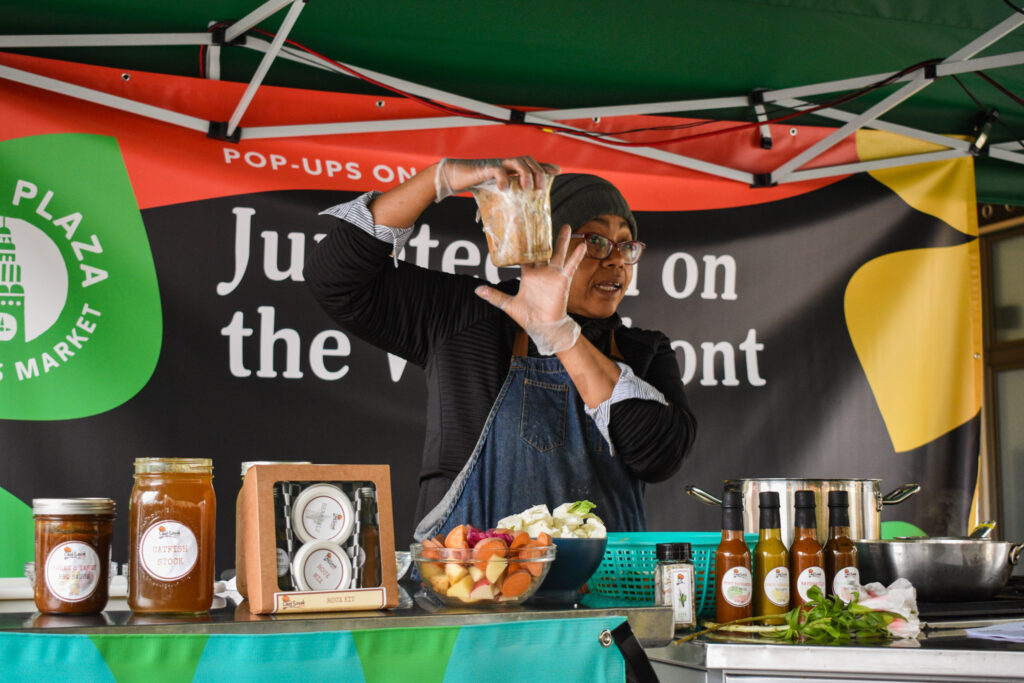 Food as Medicine, from Smoked Catfish to Hot Sauce
A decade after her Sunday dinner feat, Sarah mourned the loss of a dozen loved ones in the span of a year. She was shaken by how many of these deaths were related to chronic health issues, and she started questioning the role that food and nutrition played in wellness.
"It changed the trajectory of how I saw food," she said. "I knew that it brought people together. I knew it was sustainable in all kinds of ways. I knew that it was the backbone of my family. And I also knew that it was killing us."
Over the next two decades, Sarah studied how food and diet was a means of nourishing the body, embracing the "Food as Medicine" movement. In the Bay Area, the University of San Francisco has been evaluating how nutrition impacts overall health for some of their patients and, based on their findings, advocating for food as a right.
This shift in perspective led Sarah to create variations of the family recipes that she grew up enjoying, minimizing fat and sugar wherever possible. She explored creative swaps, like sweetening her Brown Sugar Bourbon Peach Barbeque Sauce by roasting stone fruit with onions, instead of adding extra sugar.
A year into the pandemic, Sarah was impacted by an unrelated illness, and recovering from a necessary surgery meant further re-evaluating her diet. Her once go-to proteins like pork and beef were suddenly a challenge to consume, so she started eating more fish. But she didn't want to let go of the flavors that she loved, like the smokiness of barbeque.
So, she came up with her signature smoked catfish, a flavor-packed protein that gives the tinned fish trend a run for its money. Another way Sarah builds on flavor in her cooking is with her hot sauces. Nearly all of her hot sauces have a medicinal property, as a digestive aid, decongestant, or anti-inflammatory.
Preserving Practices from the Past to Reduce Food Waste
Sarah's family history is reflected in not just her bold flavors and healing philosophy, but also her approach to food preservation. She says, "My grandmother was from a large Southern family, and two of her sisters owned orchards in different parts of the country. She would go down [to Michigan] and come back at the end of every summer with Ball jars full of things that we would eat."
As a kid, Sarah recalls finding the seasonal ritual more entertaining than aspirational, but she held onto the instructional books her grandmother had used to make preserves. A few years ago, she was motivated to revisit them.
While managing Corners Cafe, a youth mentorship and job training program, Sarah had been working with local farms and school gardens, including Castlemont Farm in Deep East Oakland. In the early months of the pandemic, the garden became overgrown. "We all went home in March. And then by early May, the farm was bursting with everything, and there was no one around," she recalls. "So, we got creative about what we could do to not have a ton of waste."
Sarah took a page from her grandmother's canning book and dove into the world of preserving food. First invented in Europe in the 18th century, canning wasn't regularly used in the American South until around 1885. And at that time, it required more time and storage space than most could afford.
It inarguably still requires dedicated time, but canning is now seen as a budget-friendly strategy that helps home cooks get the most out of their food. It gains popularity during times of economic uncertainty, such as the Depression, the Great Recession, and most recently, the disruptions caused by the COVID-19 pandemic.
After putting her grandmother's canning skills to use to prevent the abundance of Castlemont Farm from going to waste, Sarah's natural next step was to share the fruit preserves, sauces, and pickled vegetables she made with her neighbors and friends. She also worked closely with Castlemont's Lead Farmer Matthew Linzner and says his land stewardship has been essential in her food rescue and waste prevention work.
Her food businesses grew from there, and she began working with Mandela Partners to flesh out a business plan. "It all organically rolled into itself, keeping the goal and philosophy of eating as much of what we can grow as possible, reducing as much waste as we can possibly reduce, and figuring out how to make the food that we grow last as much of the year as possible."
Connecting with Local Farms, Protecting Neighbors' Health
At the Ferry Plaza Farmers Market, Sarah delights in connecting directly with people who are reaping the benefits of her medicinal foods. "That's the whole point, getting food to people who want it and who need it and having it actually help them."
"Sarah really loves cooking and thrives in the creativity of making food for others," says Sabine Dabady, Entrepreneurship Development Manager at Mandela Partners. Sabine meets with entrepreneurs for one-on-one coaching as they formalize and grow their business. "Each time we meet for coaching, Sarah shares a new insight about her experience at the market and how she is thinking about applying that to her business. Those insights and 'a-ha' moments are a big part of growing."
Sarah is also looking forward to getting to know local farmers and taking inspiration from what they're growing. Already, Far West Fungi's mushrooms bring texture and flavor to her marinara sauce and GG Farms' fresh moringa (a rare find) comes together with excess citrus from a school garden to create her Bittersweet Heat marmalade.
She's particularly interested in sourcing farmers' excess and cosmetically challenged fruits and vegetables. Last year, she salvaged roughly 16,000 pounds of produce from local farms and gardens, and it's no coincidence that her recipes make the most of what might otherwise be wasted.
Sarah explains that her cooking is about "looking at who we are as people of color, BIPOC people, and thinking about what our food sources look like originally. Most of our communities came from plant-based environments, where food was a relationship that you had with the land. So, really trying to be respectful of that, taking what's available and not taking more than we need."
Putting every last bit of the harvest to use is also a critical component to having enough to feed her community, which is a goal she's been guided by since her debut as a chef at her family's Sunday dinner. "When we waste food, we're really turning our backs on our neighbors. We're trying to have the practices that we support in our food and live our values: Neighbors matter. Community matters."
Find Chef Sarah Germany at the Ferry Plaza Farmers Market on Saturdays in the back plaza through September 30. You can also try her recipe for Smoked Catfish Chowder from a recent Foodwise Demo.
Topics: Building Equity program, Community, Health, Partners