Ceviche de Palmito & Pomelo (Tangy Heart of Palm & Citrus Ceviche)
Source: Mariana Velásquez, Colombiana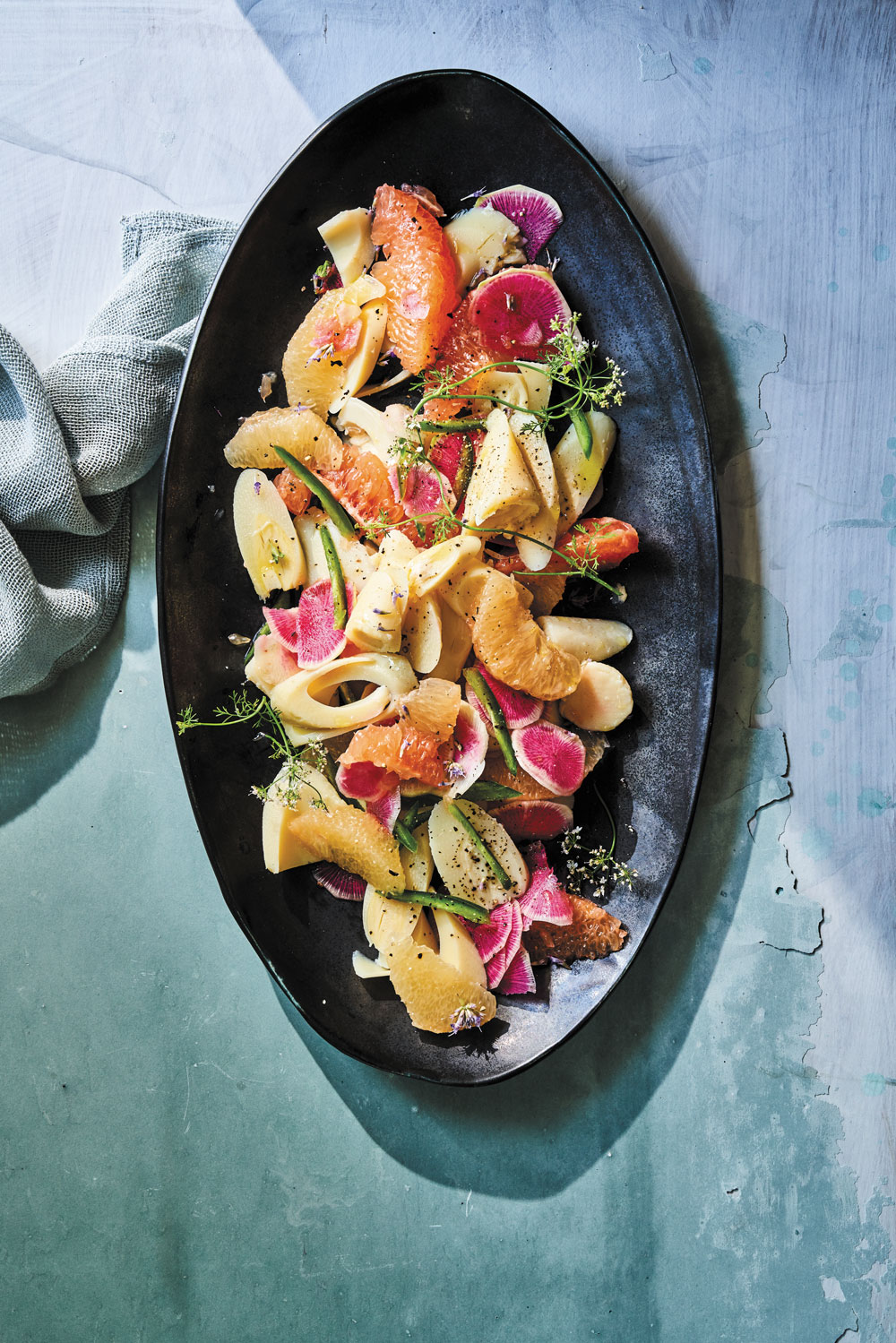 Recipe Type: Salads | Seasons: Winter
This is a refreshing and delicate salad that I relish serving as a sophisticated appetizer. It's just so easy. The soft and hot pinks alongside the whites and gentle greens make the salad very chic. If pomelos aren't in season, replace them with pink grapefruit. The hearts of palm play up a meaty texture that is both satisfying and clean. I prefer jarred to canned hearts of palm; the texture tends to be firmer and the brine less salty.
Although grown all along the Equator (mainly in Brazil), hearts of palm have a strong meaning for Colombians. These stocky, short palms have become one of the chosen replacements for illegal crops, part of the government's strategy to give communities a safer way of life.
Serves 4 to 6
INGREDIENTS
4 pomelos or pink grapefruits, peeled and cut into segments (use your hands to separate the meat from the white membrane)
(14-ounce) jar hearts of palm, cut into spears
medium watermelon radishes, peeled and thinly sliced
Juice of 2 limes
1 jalapeño, seeded, deveined, and thinly sliced
3 tablespoons fruity extra-virgin olive oil
Flaky sea salt and freshly ground black pepper
½ cup chopped cilantro, for garnish
PREPARATION
In a large bowl, gently toss together the pomelos, hearts of palm, radishes, lime juice, jalapeño, and oil, and season with salt and pepper. Allow the ceviche to marinate for 10 to 20 minutes. This allows for the citrus and hearts of palm to absorb the flavors. When ready to serve, transfer to a platter along with the juices and garnish with the cilantro.
From the book Colombiana by Mariana Velásquez. Copyright © 2021 by Mariana Velásquez. Published by Harper Wave, an imprint of HarperCollins Publishers. Reprinted by permission. Photo by Gentl & Hyers.
Farmers Market Ingredients