Bitter Greens with Oranges and Hazelnuts
Source: Dawn Perry, Ready, Set, Cook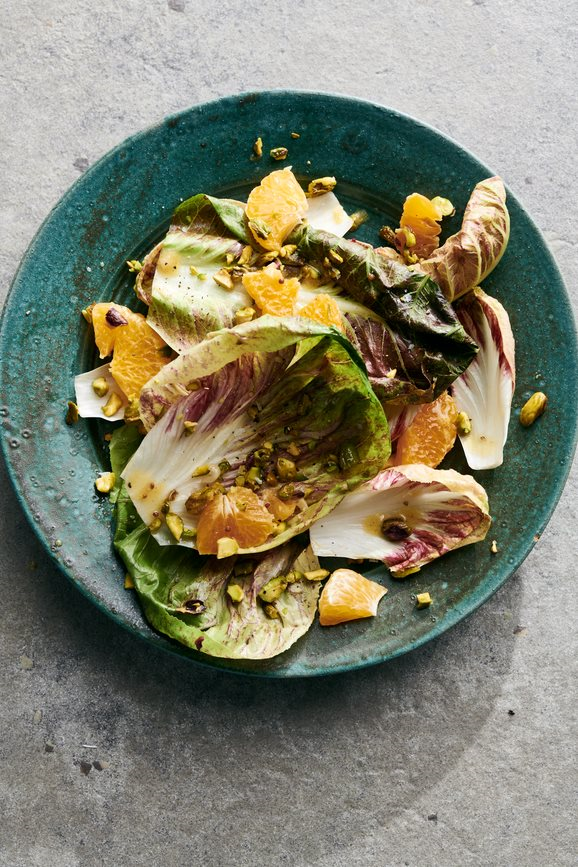 Recipe Type: Salads | Seasons: Autumn, Winter
A lot of people can be put off by bitter greens because they're so, well, bitter. Bite into a piece of especially spicy arugula or watercress all by itself and it might knock your socks off. But pair these bitter greens (or purples, as the case may be) with citrus and toasted nuts, and you've got a salad that will cleanse your palate, perfect for serving with anything on the heavier side: braised meats, spaghetti Bolognese, even a grilled cheese sandwich.
Serves 4
Active time: 10 minutes | Total time: 10 minutes
INGREDIENTS
8 ounces bitter greens, such as radicchio, endive, arugula, or watercress, leaves separated
2 oranges, peeled and sliced crosswise, rounds pulled into bite- size pieces
1⁄2 cup toasted hazelnuts, almonds, or walnuts, chopped
2 teaspoons olive oil
Kosher salt and freshly ground black pepper
1⁄4 cup Dijon Vinaigrette or Garlicky Lemon Dressing (below)
PREPARATION
Toss greens and oranges together in a large bowl. In a separate small bowl, toss hazelnuts with oil and season with salt and pepper. Add nuts and vinaigrette to greens and toss to combine.
Dijon Vinaigrette
This Dijon vinaigrette is almost always in my fridge. It's a little spicy from the mustard, but not too much; a little sweet from the honey, but not too much. Plus, you can make it with a different vinegar each time so you never get bored. And it goes with everything. Toss it with chopped celery and a handful of croutons for a crunchy no- cook side salad. Mix it with cooked beans and hunks of tomato for a summer lunch or bitter greens with oranges and hazelnuts for a light winter one. Spoon it over roasted broccoli or beets and add a handful of toasted nuts. Drizzle on a cold cut sandwich.
Makes about 1 cup
Active time: 10 minutes | Total time: 10 minutes
INGREDIENTS
1 shallot, finely chopped
1 tablespoon Dijon or whole grain mustard
1 teaspoon honey
1⁄2 teaspoon kosher salt
1⁄4 teaspoon freshly ground black pepper
1⁄4 cup red or white wine vinegar, balsamic or sherry vinegar
1⁄2 cup olive oil
PREPARATION
Combine everything in a resealable container (preferably a glass jar with a tight- fitting lid) and shake to combine. Alternatively, whisk to combine in a large bowl then transfer to a resealable container. Dressing will keep in the fridge for about a week.
Reprinted with permission from Ready, Set, Cook: How To Make Good Food with What's On Hand (No Fancy Skills, Fancy Equipment, or Fancy Budget Required) by Dawn Perry, copyright © 2021. Published by Simon & Schuster.
Farmers Market Ingredients