The Farmers Market Community Shares Lunar New Year Traditions
Selina Knowles, Foodwise Staff
January 20, 2023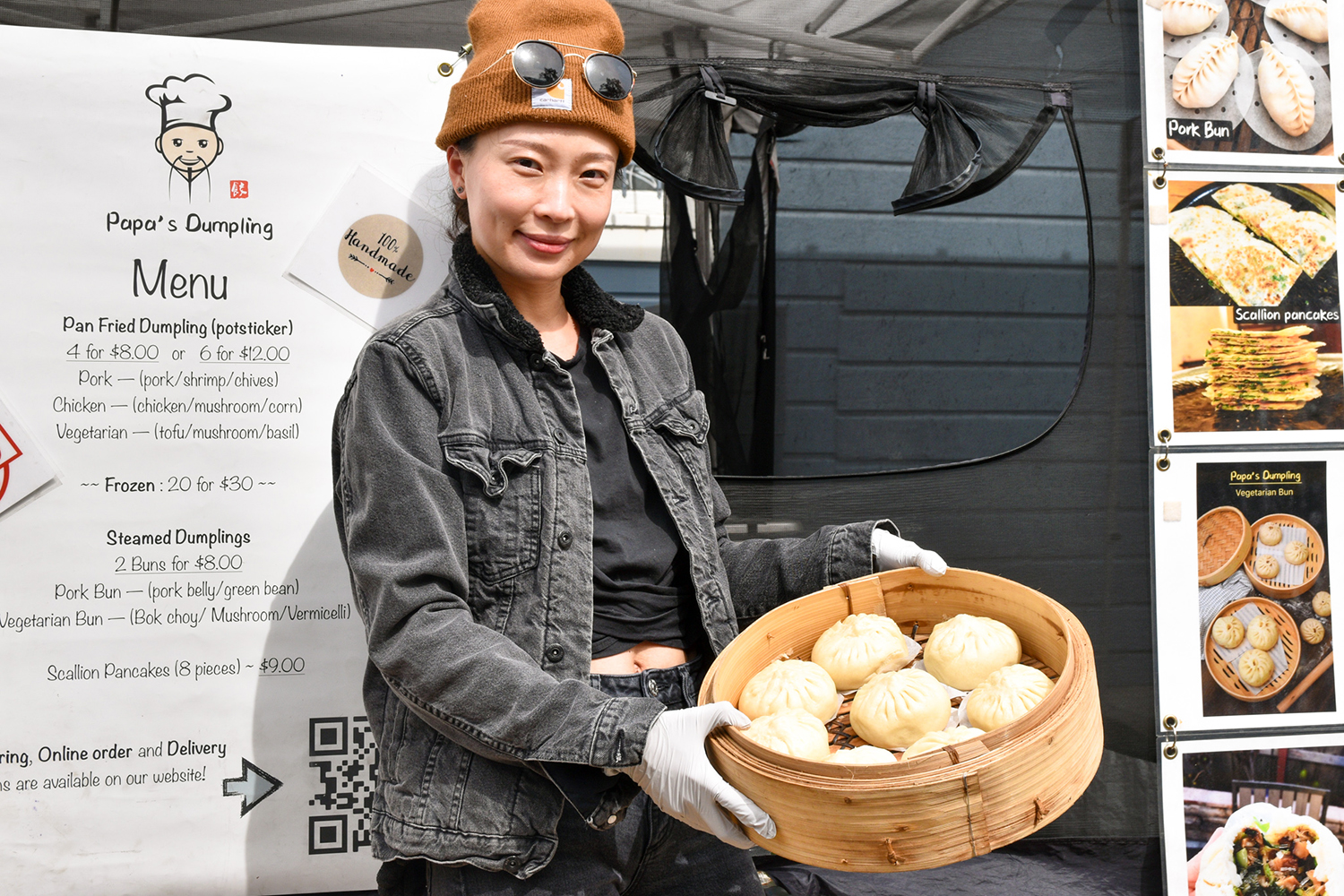 While January 1 marked the beginning of the Gregorian calendar's New Year, millions of people around the world celebrate this annual transition with Lunar New Year. And like so many cherished holidays, Lunar New Year traditions are centered around food and family.
We spoke with farmers and food makers in the Foodwise farmers market community to find out what's on their Lunar New Year table and what this time of year means to them. "Now is the time of the year to go home, see your parents, see your relatives, if you can, just be together for that holiday," says Jojo Zhu, chef and owner of Papa's Dumpling.
From Lunar Cycles to Family Food Traditions
Sometimes referred to as Chinese New Year (since the historic Chinese calendar was lunisolar, divided by moon cycles and adjusted by the length of the solar cycle), Lunar New Year is celebrated not only in China but in many Asian countries, such as Vietnam, South Korea, and Malaysia.
This weekend, Sunday's new moon (January 22) will mark the beginning of the Lunar New Year, as it is the new moon nearest the midpoint between the winter solstice and the spring equinox, and celebrations typically last 15 days. In the zodiac, it marks the start of the Year of the Rabbit or Cat.
In Asian cultures and communities around the world, people enjoy different foods in honor of the holiday, such as sticky rice, money bag dumplings, and peak-season citrus (with the leaves attached), each signifying hopes for the year ahead.
Of course, family gatherings are always about what's on the table, and dumpling making is definitely a part of the festivities for Jojo's family. At Papa's Dumpling, Jojo brings her handmade potstickers and buns, crafted in the savory tradition of northern China, to Foodwise's seasonal Mission Community Market (March through November), and she currently sells them online for pickup or delivery.
"The most fun thing to do is the whole family sits down and makes dumplings together," she says. They make all kinds of dumplings from scratch and ring in the New Year by eating them together at midnight. Some of the dumplings will contain a coin, and a lucky few who eat these special dumplings are said to have a bit of extra good luck in the New Year.
Fruits and Other Foods to Bring Good Fortune
Good fortune and prosperity are themes of most traditional foods eaten during the holiday. With their golden hues representing good luck and wealth, citrus fruits are favored around the Lunar New Year, as are other fruits like apples and pomegranates.
K&J Orchards farmer and owner Aomboon ("Boonie") Deasy is getting ready to celebrate both at the farm and at her restaurant in Oakland, Pomet. On the farm, it's peak citrus season, and the team at Pomet are making the most of it on the menu with dishes like Satsuma creamsicle pie and candied mandarinquats. On January 22, they'll be offering a special Lunar New Year menu in collaboration with the pop-up Immi.
K&J Orchards is bringing plenty of fortune to the Ferry Plaza Farmers Market, too, in the form of juicy oranges, mandarins, pomelos, and other peak-season citrus fruit. Boonie says she is saving a few pomelos from the farm, with leaves attached, to bring to the market this Saturday. She says that fruits with leaves attached signify health and prosperity.
For Jojo's family in northern China, a tangerine was the iconic bringer of good luck and money for the year ahead. "Older generations ask for everything to be on the table," says Jojo. She's referring to the practice of making sure that the celebratory feast features an animal that's flown through the sky, and fish or seafood that has swam in water. It's also common to have an assortment of seeds and nuts on the table (symbolizing fertility).
Sweet Rice Cakes for Prosperity
Jennifer Huang, owner of Nusa, shares Indonesian snacks and sweets at the Ferry Plaza Farmers Market on Saturdays. Growing up in Indonesia, she recalls celebrating the Lunar New Year with other Indonesian-Chinese families. They spent the two weeks visiting the homes of close family and friends. At each stop, she was greeted by homemade cakes and treats.
Some of the items that Nusa sells each week at the market are traditionally celebratory foods in Southeast Asian countries, like the thousand layer cake and the pineapple tartlets. "When I was young in [Indonesia], a week or two weeks before the Lunar New Year, I would help my mom in the kitchen, separating the egg yolk from the egg whites and making the layer cake," says Jennifer. "Then we would make some cookies or the tartlets in preparation for the Lunar New Year."
According to Jennifer, sweet rice cakes (nian gao) are also a must-have on the New Year's table. The Chinese characters for "nian gao" translate to "year" and "cake," but the character for "gao" also shares pronunciation with the character for "high." So, the rice cakes symbolize an upcoming year of rising prosperity, health, and wealth.
"If you eat rice cake, your fortune or prosperity will go higher and higher every year," Jennifer says. The rice cakes are often made in round shapes, signifying the gathering that goes on during this time of year. Their stickiness represents the family sticking together in the year ahead.
Just in time for this weekend's celebrations, Nusa returns to the farmers market this Saturday with sampler boxes of Lunar New Year Treats: Thousand Layer Cake, Coconut Sago Cookies, Coconut Mochi Cake, Pandan Coconut Mochi Layer, and Pineapple Tartlets.
Farm-Fresh Bounty for the Lunar New Year Table
This Lunar New Year, bring your friends and family around the table with delicious, local food. Find Nusa at the Ferry Plaza Farmers Market on Saturdays, and K&J Orchards as well as other citrus farmers at the Ferry Plaza Farmers Market on Tuesdays and Saturdays. You can find Papa's Dumpling at the Mission Community Market on Thursdays in March through November, but for now, you can order her website at papasdumpling.com.
For more inspiration, join us at the Foodwise Classroom on January 28 for a Market to Table cooking demo where Linda Tay Esposito of Flavor Explosions will demonstrate how to make Lo Hei, a traditional salad to bring prosperity into your New Year.
Topics: Celebrations, Fruit, Holiday