The Buzz about Beber Almondmilk
Janet McGarry, CUESA Volunteer
February 22, 2019
While some may argue that "An almond doesn't lactate," there's no debating that plant-based milk are having a moment. Nearly half of shoppers in America are now buying milk made from nuts, soy, oats, and other non-mammalian sources. And almond milk accounts for two-thirds of all plant milk sold.
Twenty-five-year-old Arielle Danan of Chico-based Beber Almondmilk is on the leading edge of the trend with her flavorful and sustainably sourced milk made from California-grown almonds.
Finding Inspiration in Chico and Israel
Arielle's interest in food and farming germinated in her hometown of Chico. "Chico's culture is heavily influenced by its large agricultural community," she says. "Growing up, I spent a lot of time at farmers markets and became very interested in sustainable agriculture."
After graduating from high school, she set off on an agricultural adventure, working on organic farms in India, Israel, and Italy with Worldwide Opportunities on Organic Farms (WWOOF).
While living in Israel, another WWOOFer taught her how to make almond milk. "I was vegan and drank almond milk that was sold by large companies," she recalls. "I was amazed that homemade, fresh almond milk was a lot richer and more flavorful. I became obsessed and started making batches of my own to share with my friends."
A Growing Thirst for Plant Milk
When Arielle returned home, she successfully pitched her almond milk to the manager of the Chico farmers market. On the weekends, she produced the milk in a restaurant where she was working as a sous chef. Within a few months, Beber Almondmilk became widely popular. What started as a side project for Arielle turned into a full-time job.
Six years later, the company has grown to 22 employees and currently sells at 10 weekly farmers markets and natural food stores in Northern California. Arielle still loves selling at farmers markets, where she first discovered her passion.
"As the shortest link between farmers and consumer, farmers markets should be valued and kept sacred in the food system," she says. "When dealing face-to-face with people, the food has to be high quality. You can't get away with selling sub-par products."
Some of Beber's customers purchase almond milk because they are lactose-intolerant (more than two-thirds of the world's population is unable to digest dairy milk). Others see it as a more environmentally sustainable alternative to dairy.
The majority of Beber's customers simply regard almond milk as a healthy, tasty addition to their diets. Their attitude reflects a national shift in purchasing milk, whether it's dairy- or plant-based. (In 2017, the Department of Agriculture found that 90% of consumers that bought plant milk also bought dairy milk.)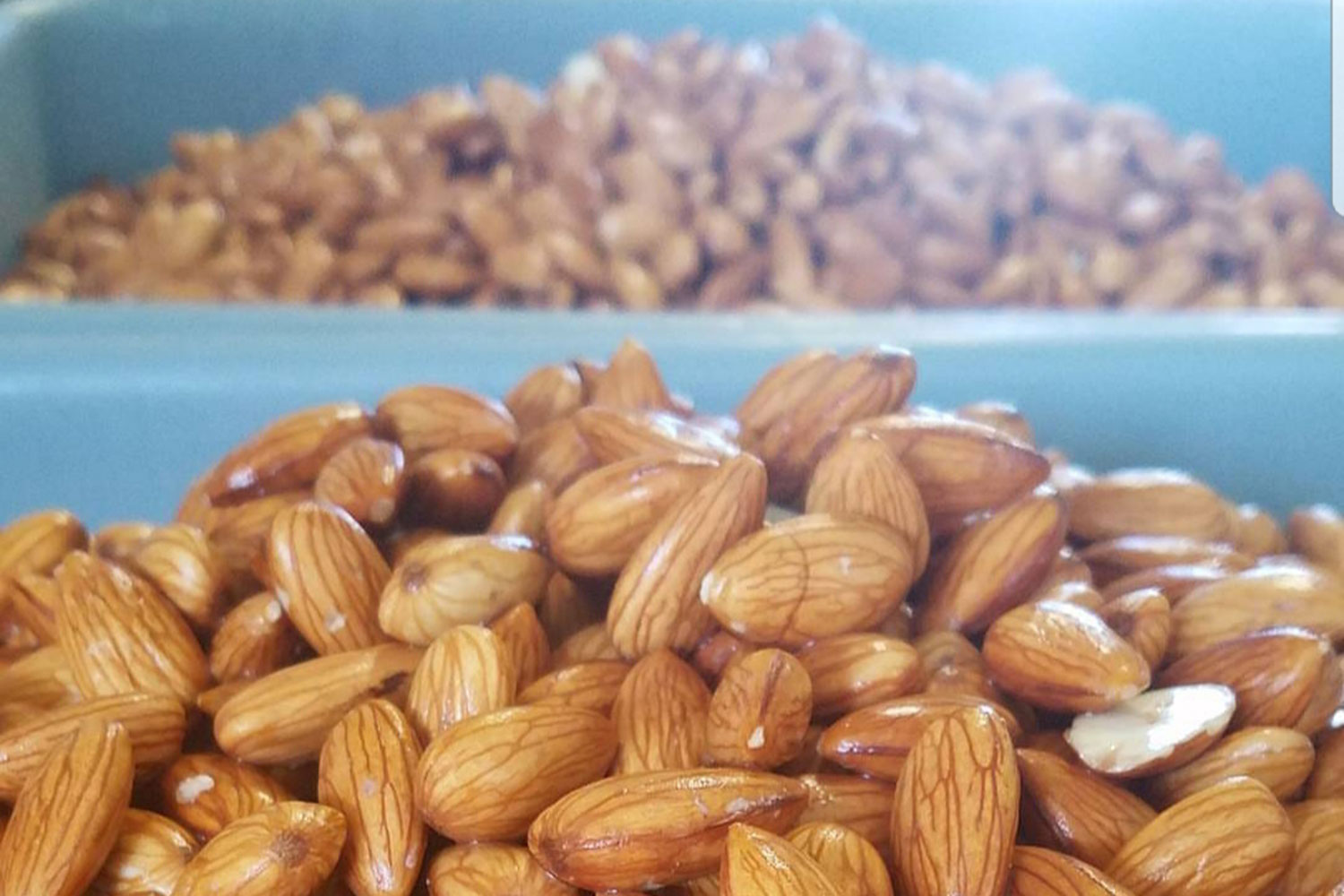 Simple Recipe: Premium, Organic Ingredients
What is Beber's secret? According to Arielle, it starts with premium whole, organic Nonpareil and Independence almonds from Baugher Ranch Organics. Baugher is the country's largest organic almond processor, located in Orland, just 20 miles from Chico.
Larger almond milk companies typically make almond milk by using lower quality, damaged almonds to create a paste, which is diluted with water, thickeners, and flavors. The end result: almond milk that is only 2% almond.
In contrast, Beber's recipe has a higher ratio of almonds to water, which results in a more nutritious and flavorful product. They also keep the manufacturing process simple. After the almonds are soaked overnight to soften and release enzymes, they are blended with filtered tap water. They are then pressed, and the mixture is strained to separate the pulp from the milk.
Beber uses mostly organic ingredients to create its year-round flavors such as vanilla honey, chocolate, lavender, and chai, as well as its seasonal flavors, such as strawberry, pumpkin, horchata, and holiday nog.
Sustainability: Caring for the Bees, Trees, and the Community
Climate change is an increasingly difficult challenge for almond farmers and almond milk makers like Beber. "Almonds have a pretty narrow pollination window. The flowers have to bloom during a certain time period, and frost can damage them," explains Arielle. "But farmers are amazingly resilient at finding solutions."
Beber's almond variety selection reflects a focus on the environment as well as delicious flavor. "We're concerned about colony collapse disorder and bees being brought into the state to pollinate the almond blossoms, which generates greenhouses gases." This year, Beber started using a "bee-free" variety of almonds called Independence, which is wind pollinated.
Independence accounts for more than 25% of new plantings in California in recent years, creating buzz about reducing the industry's reliance on imported bees. More than 1.7 million colonies (approximately 73% of America's total honeybees) are shipped to California annually to pollinate almonds in the world's largest managed pollination event.
Beber's other green practices include packaging milk in recyclable glass bottles, minimizing water use, and consolidating deliveries to reduce its carbon footprint. The company reduces food waste by giving the almond pulp meal (left over after pressing the almonds) to a local farmer who feeds it to his livestock. Beber donates unsold almond milk to a food pantry at Chico State.
Wildfires, predicted to increase as the climate warms, have had a devastating impact on the Chico area. During the Camp Fire in Paradise this past fall, Beber loaned its refrigerated trucks to a shelter for cold storage of donated food and medicine.
"So many people helped out after the fire that our efforts were just a drop in the bucket," says Arielle. "Chico is a very tight community. We are always looking for ways to give back."
Find Beber Almondmilk at the Ferry Plaza Farmers Market on Saturdays.
Photos by Beber Almondmilk.
Topics: Climate change, Food makers