Israeli Tostada (Deconstructed Fattoush)
Source: Mica Talmor, Pomella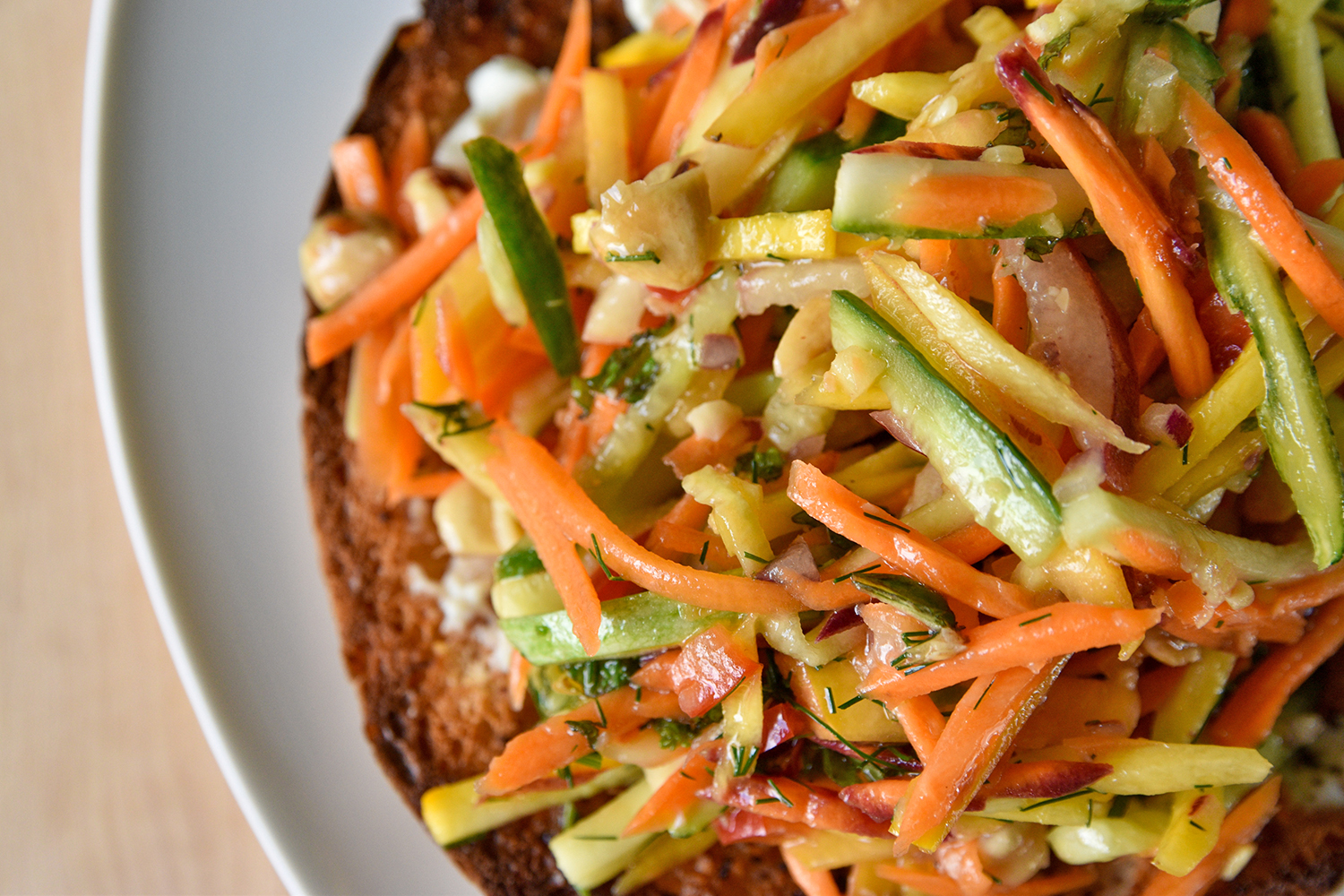 Recipe Type: Salads | Seasons: Summer
This recipe was demonstrated at the Foodwise Classroom on July 23, 2022.
Serves 6
INGREDIENTS
Pita "Tostada"
3 pita
½ cup olive oil blend
3 tablespoons sumac
2 teaspoons salt
1.5 cup fresh goat cheese (optional)
Slaw
6 cups shredded seasonal vegetables and fruit (3 summer squash, 2 large carrots, 2 firmer peaches, 4 Persian cucumbers)
1 bunch mint
1 bunch dill
⅓ cup toasted hazelnuts
Dressing
2 teaspoons finely chopped ginger
3 tablespoons finely diced shallot or red onion
3 tablespoons finely diced red pepper or spicier pepper
⅔ cup olive oil blend
⅓ cup hazelnut oil
½ cup sherry wine vinegar
2 teaspoons salt
⅛ teaspoon freshly ground black pepper
PREPARATION
Whisk all dressing ingredients together and let sit.
Cut the pita in half, brush inner parts with oil, dust heavily with sumac and a little salt. Toast in a 375 F oven (350 convection) for ~15 minutes, until toasty brown.
Meanwhile, shred all the vegetables using a knife/mandoline/grater. Roughly chop the herbs and hazelnuts. Mix everything into the dressing.
When the pita tostada is ready, pull it out of the oven, dot with goat cheese, and return to the oven for about 5 minutes until goat cheese starts to brown at edges.
Place the tostadas on plates, load with the dressed slaw, juice and all. At first bite it's more of a tostada, and as the dressing soaks into the bread, you end up with a fattoush.
Cut up rest of vegetables small enough to add to food processor and pulse until chopped up or finely diced by hand. Mix together with cauliflower mixture. Add salt to taste.
Enjoy on a tostada, with chips, on a bed of greens, or in a lettuce wrap topped with your favorite hot sauce, pickled jalapeños or onions, avocado, or whatever else you like.
Farmers Market Ingredients