Your Gift to Aruna: Nourishing Those Who Nourish Us
December 14, 2018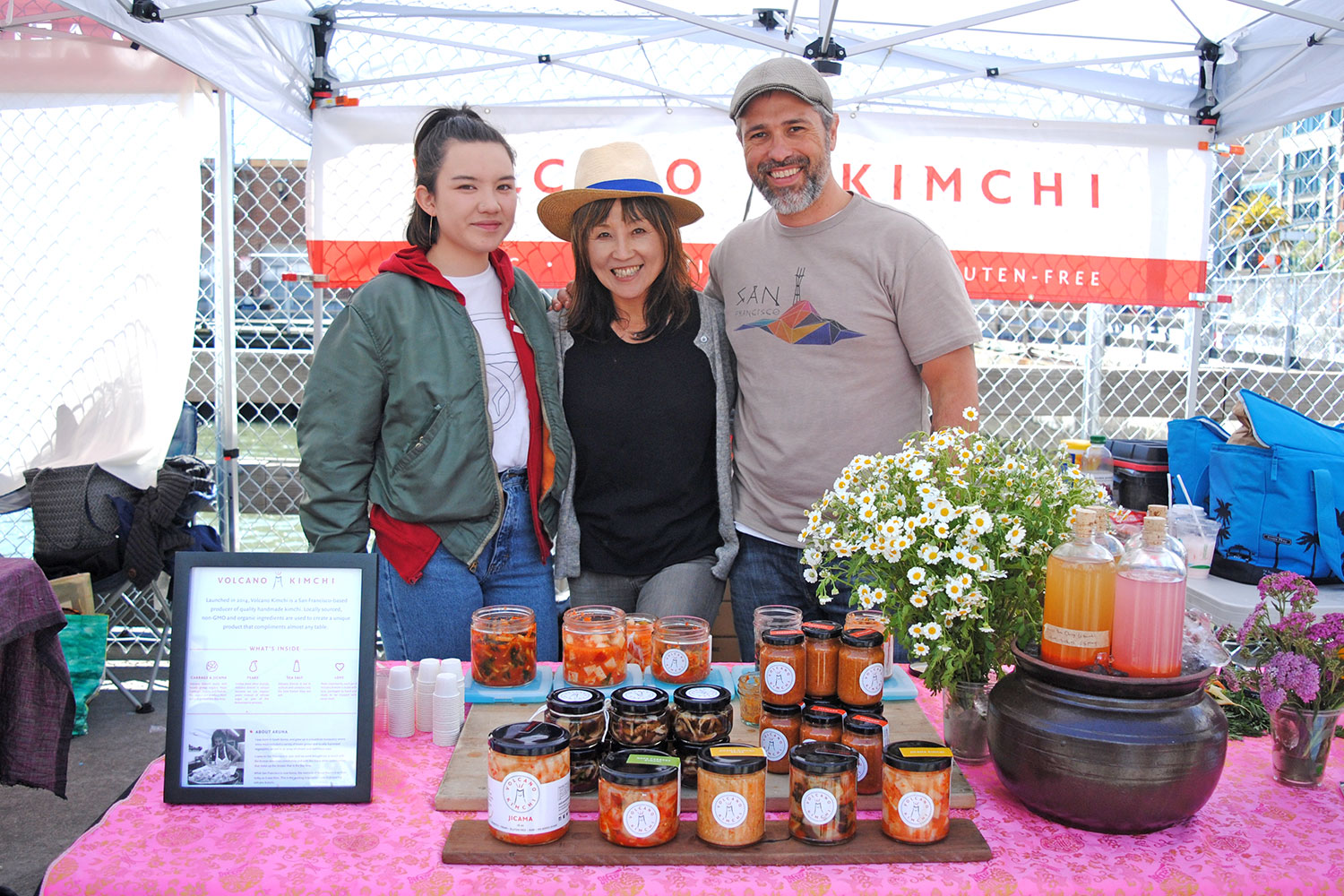 When you support CUESA, you are helping to create a food system that works—one that makes healthy and delicious food available to all, and supports the people who make it possible. In the increasingly expensive Bay Area, community support at CUESA's farmers markets has become a vital ingredient for many small food entrepreneurs' success.
This month, we're featuring inspiring members of our community who are growing the healthy world we want to see. Today we want you to meet Aruna Lee, the founder of Volcano Kimchi. Aruna joined CUESA's Saturday Ferry Plaza Farmers Market two years ago as a pop-up vendor, offering new twists on the Korean ferments of her childhood, using produce from local farms. CUESA's farmers markets have brought her business broad exposure to new audiences and a support network as she builds the business of her dreams.
Aruna shared her story about what your support has meant to her as she grows Volcano Kimchi, while nourishing our community.
It's been a long road from growing up in a Buddhist monastery in South Korea to selling kimchi at Bay Area farmers markets. I wasn't always known as a food maker. When I was a nun, all the other nuns in the temple kept me out of the kitchen. I was young, of course, and they all thought I couldn't cook.
But I loved to create! When I moved to San Francisco, I eventually found myself making food in the home, for family and friends. People here didn't know a lot about Korean food, especially temple cooking. I started making dishes I knew growing up, experimenting with local flavors.
At the time I worked at a nonprofit, which downsized in 2014. I lost my job, and it was then I decided to launch Volcano Kimchi.
My idea was to make kimchi like I had growing up: fresh, locally harvested, clean, and full of flavor. Some of my earliest memories are of sneaking out of the temple at night in the middle of winter to snack on kimchi. There were jars of it left outside, sometimes the top layer covered in the thin sheet of ice. I'd break through the ice and snag a radish or piece of cabbage. It was such a guilty pleasure. That memory inspired me to go into the food business.
I didn't have any business experience when I started Volcano Kimchi. When I started selling at the CUESA farmers market, I was still pretty new. My kimchi was in a couple of stores, but I was basically going store to store introducing my product. I felt like a tiny fish in a vast sea. Getting into CUESA was such a confidence boost, on so many levels. I could tell potential buyers where they could find me. I could meet customers and get instant feedback on my kimchi.
CUESA quickly became the foundation for my business. Our farmers market sales remain the backbone of our company. Kimchi is a tricky product—people have to know or trust it before they dive in. That's what's been great about the markets. I get to talk to people, to tell them about my kimchi. Even people who say they don't like kimchi often end up buying a jar or two. Thanks to CUESA, we've also gotten into a few restaurants, including Madera at Rosewood Hotel. Chef Reylon and his team come by every week for our kimchi. It's such an honor to know our kimchi is appreciated by such talented people.
After joining the CUESA market community, we've expanded into other farmers markets, where we've been able to connect with more people around the Bay Area. I've also gotten to know some of the farms at the market. And using their produce, I've created different kinds of kimchi, seasonal batches that glow with the kind of freshness you can only get at the farmers market.
I believe in people, and in giving them good food, honest food. What I do at the market is partly to educate visitors about new foods, new flavors. I introduce them to new ways to enjoy familiar foods, or to completely new foods, like the burdock noodles that I make. A lot of people who come to my booth say they've never heard of burdock, and they want to learn more after trying our product. I love being able to open new taste and food horizons like that for people. And that's also at the core of what CUESA does: helping people discover and enjoy good food and connect with the people who bring it to us.
Running a small business can be kind of isolating, but being part of the farmers market has plugged me in to a community of food makers and farmers from whom I've learned so much. Being part of this world of creative people all dedicated to reinventing the food system, to making it better for us and for the earth—that means a lot to me.
Since starting Volcano Kimchi, there's been so much that I've had to learn about running a small business—I don't even know where to start. One challenge has been in figuring out how to grow my business. My goal is to one day have my own store, a fermentation café where I can continue to create and experiment. Figuring out the path from where I am now to there has been tricky. But I know I'll get there!
I could not do it without CUESA and the market community, which is all of you. Just imagine for a moment San Francisco without its farmers markets. It would be like the city without its Golden Gate Bridge, or the fog!
We live in one of the richest agricultural areas in the world. And CUESA helps connect people from all over to the bounty we have here, providing opportunities for farmers and food makers like me to grow and succeed. That is priceless, and your support makes all of it possible.
When you give to CUESA, you are supporting a food system that values people and our planet. Your gift means that local food makers like Aruna have a fighting chance in growing and sustaining their business, as they bring us delicious, healthy food. Make a tax-deductible donation today.
Topics: Food makers, Programs