What It Took for This Small Food Maker to Get Certified Organic
Selina Knowles, Communications Coordinator
May 12, 2023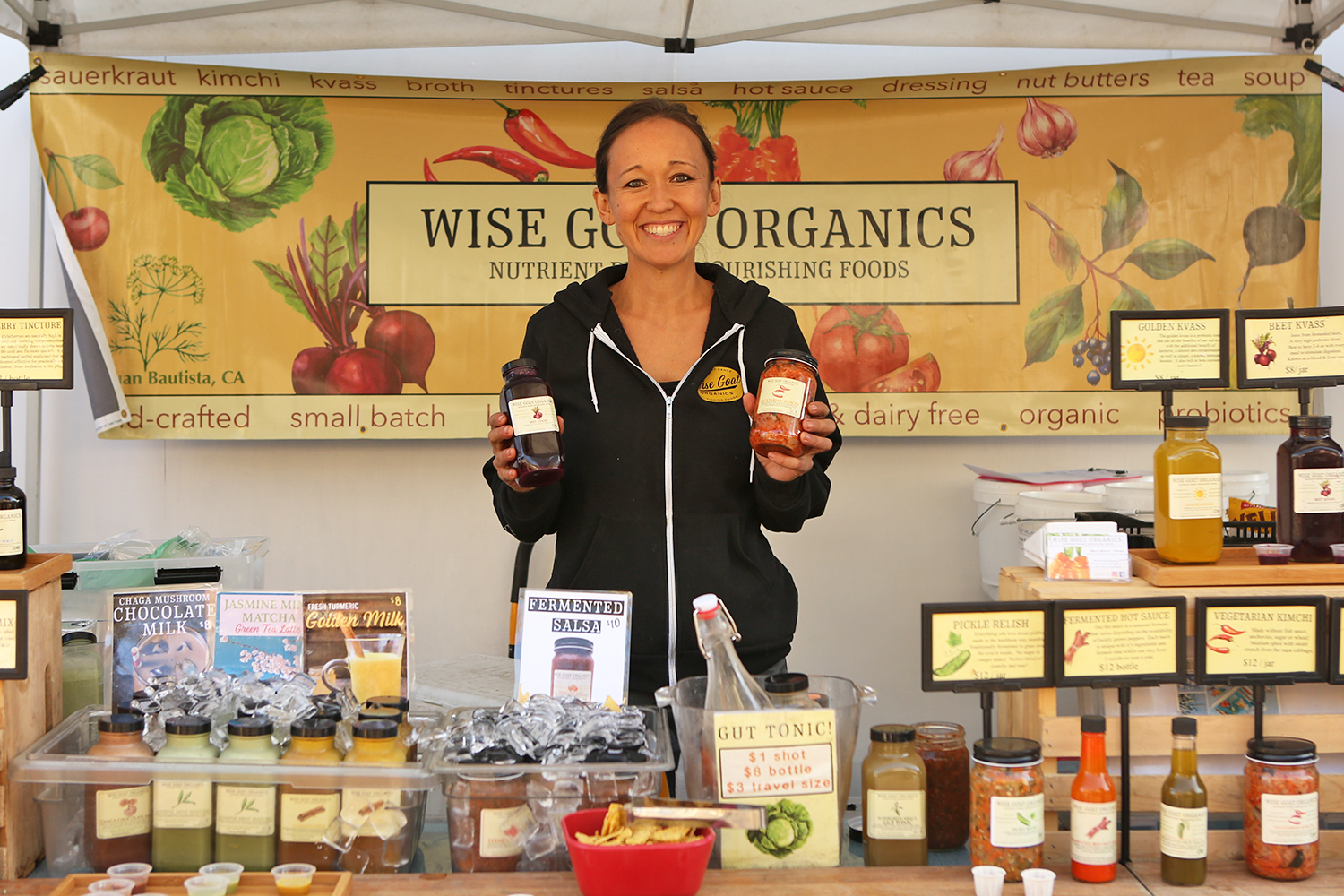 "There was no question of whether I was going to use organic or conventional ingredients. It was always certified organic," says Mary Risavi, owner of Wise Goat Organics. Sourcing from local organic farms has always been at the heart of Mary's fermented food products, but as a small business owner, the costs and added work of getting that USDA organic seal felt daunting for her.
As Wise Goat approached its 10th anniversary this year, Mary felt that it was the perfect time to formalize her longstanding commitment to organic sourcing. She tackled a mountain of paperwork, uncovered a disingenuously marketed ingredient, and came out the other side grateful for the added assurance her customers now have when enjoying her award-winning krauts, kimchis, and other ferments.
Creating a Recipe for Gut and Planet Health
Before starting her own food business, Mary worked at Heirloom Organic Gardens' farmers market stand at the Ferry Plaza Farmers Market, which nurtured her interest in food and led her to become a nutritionist. She quickly noticed that her clients' could benefit from more fermented foods, which help diversify gut microbiota and increase the body's access to vitamins and nutrients.
Frustrated with limited options for properly fermented foods, Mary took to creating them herself. She started by making sauerkrauts for her clients, and her business took off from there. "Word of mouth spread, and my clients started sharing it with their friends and family. I didn't realize how much people would enjoy sauerkraut."
Now with over 40 products, Mary continues to source fresh organic produce from farms nearby. "We always buy local and I love doing it," says Mary. "It's very easily accessible in the Bay Area." She still purchases vegetables from Heirloom Organic Gardens, and she also considers herself lucky to be able to pick up ingredients from neighboring farms near her kitchen space in San Benito County.
However, as her one-woman operation grew more quickly than she ever expected, it became hard to make time for the work of applying for USDA organic certification.
Proud of her commitment to sourcing organic ingredients and producing products with no additives, Mary designed Wise Goat's labels to feature the ingredients list front and center. But then, nine years into running her business, Mary received an email from the Food and Drug Administration (FDA) notifying her that listing organic ingredients on the front of a food package was only allowed if the processed product was certified organic.
"At that point, I would either need to redesign all of our labels and hide the ingredients on the back, or I would have to get certified organic," says Mary. Getting certified organic wouldn't change the way she made food, but it would take some extra time and effort—resources in short supply for any small food maker.
"I find a lot of value in certified organic foods. I know from talking to farmers, there's an intention behind it to make the food as clean as possible, which in return makes the earth as healthy as possible," says Mary. "The difference [in being certified] is the paperwork."
Uncovering Fraud Through the Certification Process
For small farms and food makers, the costs, time, and vetting process for getting certified organic can be onerous. Mary describes the process as a year and one month of challenges. For each of Wise Goat Organics' 40 products—from elderberry syrup and beet kvass to fermented chili paste and black garlic—each ingredient had to be traced back to the source for California Certified Organic Farmers (CCOF), a regional USDA organic certifier, to confirm its organic status.
Not willing to compromise on any of her products, each with their own loyal following at farmers markets and specialty grocery stores, Mary found herself drowning in forms. "There was a month or two where I printed everything out and just got overwhelmed," recalls Mary. "I put it all in a folder and just put it away for a month because it just caused me a lot of anxiety."
To confirm that a crop is meeting the standards for organic certification, CCOF checks up on every local farm and supplier that contributes to Wise Goat Organics' products. Though arduous at times, the thoroughness of the process proved important, especially when it revealed that one supplier was advertising an ingredient as organic when it was actually conventionally grown.
The supplier for this ingredient, which Mary was paying a hefty premium to, turned out to be taking advantage of "greenwashing," or falsely marketing something as sustainable in order to turn a higher profit. "They're making a lot of money for a product that is just like any other conventional brand on the shelf. It's really frustrating," says Mary, who then had to find a new, truly organic supplier.
By the end of the process, Mary was relieved to be certain about the sustainability and transparency of her products. "Now that I've gone through it, I wish I did it sooner," she reflects. She recognizes how the label can bolster customers' confidence that what they're buying will nourish them, as well as the farms and soil its ingredients come from.
Working Hard and Playing Hard
Since founding Wise Goat Organics to create foods that boost her community's health, Mary admits it has been a true labor of love. "I could probably make a lot more money for less hours worked, but the freedom and satisfaction I get from Wise Goat are worth all of the sacrifice."
It can be easy to feel worn down by administrative hurdles of running a small food business, like the piles of paperwork that keep a food maker stuck at her desk, rather than creating new tasty concoctions in the kitchen. But Mary keeps it fresh by embracing the challenges with a spirit of fun and curiosity.
"All the products in Wise Goat have always kind of followed the flow of my personal interests," she says. Sharing her creations directly with the community at the farmers market also keeps her going. Mary is excited for people to try the delicious rewards of her recent passion for herbal tea blends, including a gentle cardamom spice tea, as well as her 2023 Good Food Award winning products, vegan kimchi and vegan kimchi hot sauce.
Reflecting on the decade of building and growing Wise Goat Organics, she concludes that keeping an element of play in her day-to-day operations is what's made her business sustainable. "Even on the hardest days, it's like I'm in play mode."
Support Wise Goat Organics at the Ferry Plaza Farmers Market on Saturdays.
Topics: Food makers, Organic, Small business