The Lexicon of Sustainability
Brie Mazurek, CUESA Staff
January 26, 2012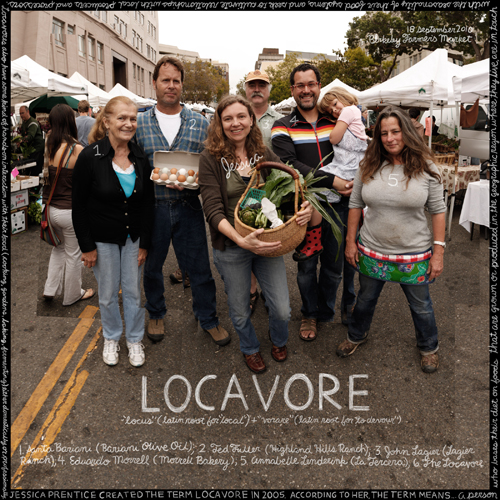 Urban farmer. Heirloom. Food security. Methane digester. These are just a few of the terms you'll find in the Lexicon of Sustainability, a series of portraits that speak the language of a growing movement.
The project began with Douglas Gayeton's first book, Slow: Life in a Tuscan Town, which portrayed the principles of the Slow Food movement as expressed in rural Pistoia, Italy. While on his book tour in the United States, Douglas encountered people who longed to connect with those cultural traditions. "We're a nation of immigrants," he says. "And a lot of traditions that were tied to food haven't carried on from one generation to the next."
He decided, with his wife, Laura, to document and share what they saw as the roots of the sustainability movement in America. They started by photographing 100 thought-leaders, farmers, and food artisans and asking them to describe one key concept that defined what they did. Each portrait in the Lexicon consists of multiple photos seamlessly collaged, then carefully hand-lettered with detailed phrases selected from the interviews. "The people in the photographs often refer to the image as a collaboration, and for us, that's the greatest compliment," says Douglas. "They have sweated out all of the words. They've thought it all out."
So far, the Lexicon team has created more than 175 of these "information art" photo collages, capturing national pioneers such as Will Allen, Alice Waters, and Joel Salatin, as well as familiar Ferry Plaza faces from La Tercera Farm (pictured at right), Marin Sun Farms, Knoll Farms, La Cocina, Cowgirl Creamery, Lagier Ranches, and Bariani Olive Oil (all pictured below). The project is also branching out into short films.
This year, the Lexicon Project takes the show on the road with pop-up exhibits around the country. Hosted in community venues like farmers markets, small grocery stores, and CSA pick-up spots, the goal is to engage people in the places where they think and talk about food. After each show, the prints are donated to a local school.
At CUESA, we believe that understanding the language of sustainability is crucial to creating a good, clean, and fair food system for all. We caught up with Douglas, who had just returned from photographing alternative water and energy practices in Israel, to learn more about the Lexicon project.
Why did you choose to focus on the language of sustainability?
Douglas Gayeton: Sustainability as an idea is very important, but as a term, it's vague and often misused. People ask me, "How can you use the term sustainability for your project when it's already been hijacked?" Part of the project is taking back the power of words from large companies. Look at the term cage-free. When people learned the term cage-free, they suddenly thought about where an egg came from and realized that a cage-free egg would probably taste better and was probably better for the chicken. Then, it turned out that cage-free was a weasel word, and it was replaced by free-range, which was also a weasel word. That led us to pasture-raised. The idea that terms have power to shift people's consciousness and thereby shift the way industries do business is very real.
What have you learned about sustainability since starting the project?

DG: Sustainability is best expressed by the people I've documented. One definition came to me from a Cherokee forager (pictured at right) in Washington State. He said that when he learned to forage, his grandmother and his great aunt took him out into the forest and showed him how the animals eat. They told him that an animal never eats all of something; an animal always leaves a little bit so that next season there is something more to eat, and it'll be there every year. This is one definition of sustainability: to not use all of something, to use enough of something to satisfy your own needs, and to make sure there will be something left for the next person.
Our logo for the Lexicon Project is an ouroboros, a snake that eats its tail and constantly rejuvenates and revitalizes itself. But I think there are many ways to express sustainability. People have a tendency to think in black-and-white terms—only eating what's local, only eating 100 percent organic—but part of the project is illuminating that things are much more gray than black and white.
Why do we need a common language around food and sustainability?
DG: Whenever I go to a conference about food, there ends up being someone who says we don't know the difference between food sovereignty and food justice and food security, or we don't understand the different principles related to egg production. We are activists who are deeply engaged in the conversation, and yet we don't know the distinctions between all of these terms. This puts us at a great disadvantage because we can't speak with a unified voice.
Somebody came up to me once and said, "You know, what you're doing is diabolical, because if you can set the definition of something and get people to become disseminators, then you've planted thought bombs that they'll never be able to get rid of. You've taken the power of those words back." I firmly believe that words can save the world, and words are the building blocks for new ideas. If the most radical thing this project can do is help define what the words are, then we are perfectly comfortable with that.
Meet Douglas Gayeton and watch the short film "A Story of an Egg" at CUESA's Beyond Cage-Free panel discussion on February 16. Learn more.
You can view larger versions of some of these images at the Lexicon of Sustainability. Captions for the above images:
Locavore: Santa Bariani of Bariani Olive Oil, Ted Fuller of Highland Hills Ranch, Jessica Prentice of Three Stone Hearth, John Lagier of Lagier Ranches, Eduardo Morrell of Morrell Bakery, Annabelle Lenderink of La Tercera Farm
Heirloom vs. Hybrid: Annabelle Lenderink of La Tercera Farm
Sustainability: Running Squirrel, native Cherokee forager
Biodiversity vs. Monoculture: Rick Knoll, Knoll Farms
Artisanal vs. Mass-Produced: Cowgirl Creamery
Pasture Management: David Evans, Marin Sun Farms
Kitchen Incubator: La Cocina
Topics: Farmers, Food makers, Slow food