Black Chefs Honor Family and Tradition at Their New San Francisco Storefronts
Selina Knowles, Communications Coordinator
February 3, 2023
To kick off Black History Month, we're celebrating two local chefs who are building community and successful businesses around culturally rooted foods. Gumbo Social and Peaches Patties, which have popped-up at Foodwise's Ferry Plaza Farmers Markets, are expanding to new brick-and-mortar storefronts in San Francisco this year.
The lack of Jamaican food in the city was what originally motivated Shani Jones to start her business, Peaches Patties, which just opened a shop at the Ferry Building. "I've always had a love for cooking, and I decided one day, I should open up a Jamaican patty business," she says, "And I think that that will go well here in San Francisco. I think that's what is missing."
Opening a Bayview restaurant later this spring, Dontaye Ball started Gumbo Social with the goal to make gumbo America's national dish. He describes gumbo as his first love, "I uniquely love gumbo. Whenever I make it, I just smile. There's something about it that's special: the way it smells, the way it looks, the way it makes you feel, the stories behind it."
Shani and Dontaye share what led them to pursue culinary careers, how they worked creatively to grow their businesses, and what they're looking forward to in the coming year.
Peaches Patties Pays Homage to Chef Shani's Childhood Nostalgia and Culture
Jamaican cuisine has made it to the San Francisco Ferry Building, thanks to Shani Jones, chef and owner of Peaches Patties. Previously, many San Franciscans would have to cross the bay to find Jamaican food in Oakland. Peaches Patties also attracts visitors from the Caribbean islands and southeast United States, who are always excited to see patties on the West Coast.
Jamaican patties hold a lot of nostalgia for Shani and cultural significance for her family. Shani named the business after her mom, nicknamed Peaches, who treated the family to patties at home. She says, "My mom, even though she came here in the 1970s, never let go of her culture, and she would share that with us through food."
In 2013, Shani and her mom cooked patties in their home kitchen. Once established as a caterer, Shani participated in a business incubator program with La Cocina, a nonprofit working to solve problems of equity in business ownership for women, immigrants and people of color. Shani has also found support through Inner City Advisors and the Small Business Administration.
With the help of La Cocina, a family recipe that originally made two dozen patties per batch turned into 250, allowing Shani to share her favorite foods with more of the Bay Area. Shani has popped up at the Ferry Plaza Farmers Market through La Cocina, who partners with Foodwise to highlight a rotating roster of women entrepreneurs, as well as Foodwise's Juneteenth on the Waterfront and Foodwise Summer Bash.
"Year after year, we were able to let people know that Jamaican food is here," Shani says. Along with patties, she also serves up typical Jamaican street food sides like jerk chicken, plantains, rice and vegetables, and beverages like sorrel (a spiced hibiscus drink) and ginger beer.
Shani is optimistic about having a presence at a historic and highly-trafficked site, where she can continue to grow visibility for Peaches Patties. She says, "The Ferry Building is just one of the many, many stops of what we will be doing in the future. You can expect more stores."
Learn more about Peaches Patties here and La Cocina here. You can find Peaches Patties at Love Bites on February 9, an evening of bites and drinks at the Ferry Building, benefitting Foodwise.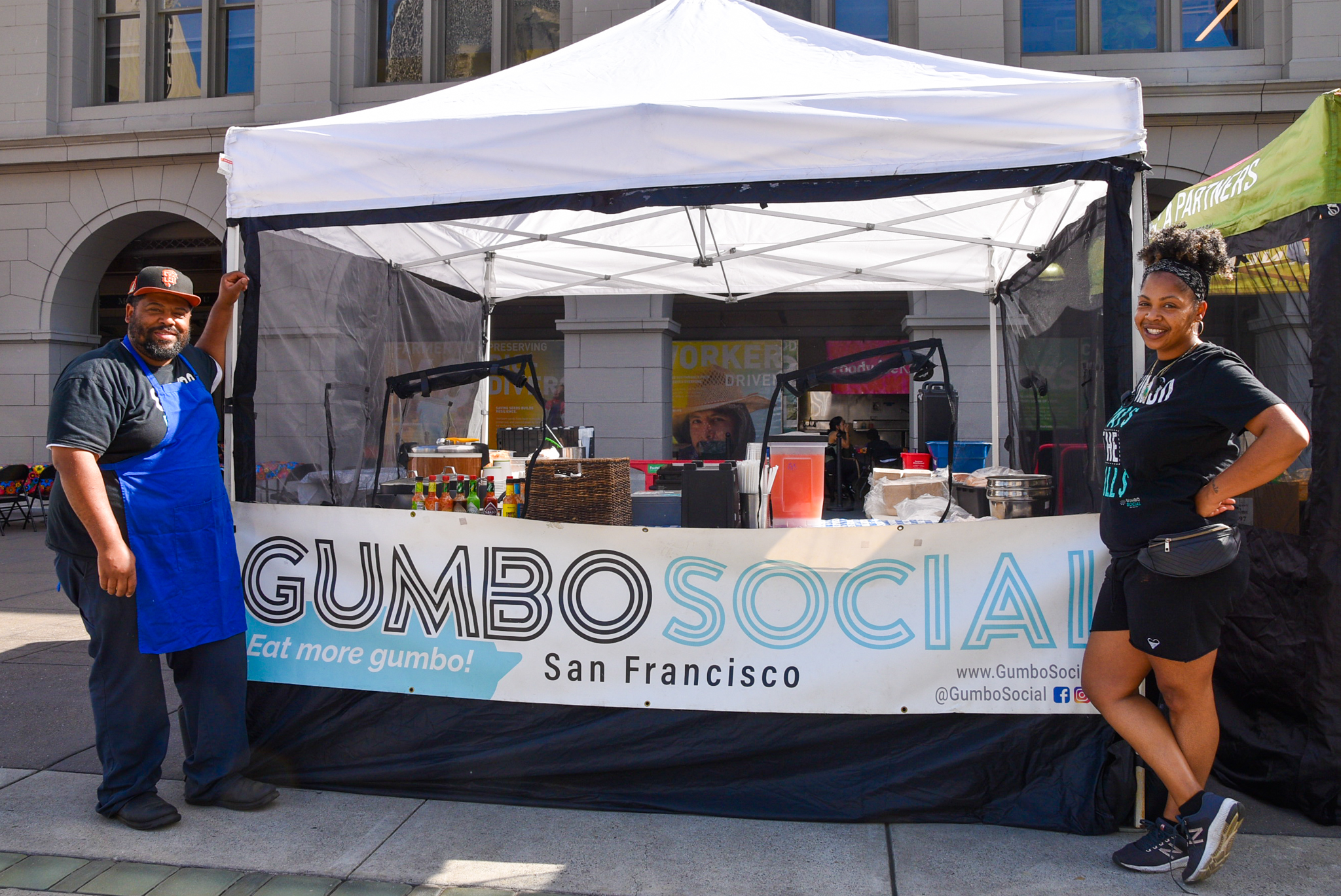 At Gumbo Social, Chef Dontaye Invites Diners to Join the Gumbo Conversation
The storytelling element pulled Dontaye Ball into the world of gumbo, which he initially started cooking on the side of a catering career, and he's been part of the conversation ever since. "I wanted to pick a dish that people could develop discussion around, and I think gumbo is really that dish," he says.
Although gumbo is heavily associated with Louisiana cooking, its origins aren't clear, and its adaptations carry controversy. The name of the dish derives from a West African word for okra, but chefs and aficionados debate about the use of okra or a roux to thicken the stew, as well as whether or not to use tomato and how thick the final product should be. But when it comes to gumbo, most agree that you should expect variety, keep an open mind, and serve with rice.
With gumbo being so personal, it makes sense that Dontaye's cooking is in part inspired by his grandmother, taking on a "WWGD" approach. He says, "A lot of times I'm like, 'dang, I wonder what my grandmother would do with that.' And that may draw or spark some experience or some inspiration."
Dontaye also draws on his previous experiences working in restaurants such as Delfina, and connects with local farmers to guide his decision making in the kitchen. "I'm constantly inspired by the farmers, what they're growing, and how passionately they speak about their product. It helps me envision what's possible with an ingredient," he says.
For up-and-coming businesses, Dontaye recommends the farmers market as a good training ground. "It allows you to interact with people in a way that you can't do anywhere else. It also gives you an opportunity to test your concept," he explains.
Foodwise partners with En2action's Ujamaa Kitchen, a nonprofit promoting equitable growth and resilient communities, to highlight a rotating roster of Black chefs and small business owners, such as Gumbo Social, at the Ferry Plaza Farmers Market. In addition to En2Action and Foodwise, Dontaye credits the Bayview Merchants Association, the Dream Keeper Initiative, and Economic Development on Third for supporting the growth of his business.
"A lot of people have found us through just being associated with the [Ferry Plaza] farmers market," says Dontaye. Gumbo Social popped up at the weekday markets a dozen times last year, and at special events like Foodwise Sunday Supper and Juneteenth on the Waterfront, at which he hosted a gumbo cooking demo.
Along the way, Dontaye and his team have worked hard to grow what he affectionately refers to as the "Gumbo Social family"—over 260 of which showed up to back Gumbo Social's Kickstarter campaign to raise funds for the restaurant. Crucial to the campaign's success was his team's ability to bring supporters on board with a clear vision and plan.
Gumbo is inherently a social dish, and at the new restaurant, visitors will be invited to join the discussion. At a gumbo bar, diners will be able to customize their bowl of gumbo to their liking, choosing from different protein options like roasted duck, slow roasted turkey, and pork.
Looking forward, Dontaye hopes to build capacity to rejoin the Ferry Plaza Farmers Market (which he is not currently vending at), and of course, opening the doors of the restaurant hopefully in late April. He's also eager for spring and summer crops, like okra, fresh black eyed peas, and stone fruit.
Learn more about Gumbo Social here and En2Action here. Stay tuned this spring for the restaurant opening at 5176 3rd St., San Francisco.